BeoPlay V1 Havana Special Edition
it has been modified:
2015-07-03
di
The innovative flat screen television has been enhanced with a stand Wheel in the special solid Havana.
B & O PLAY Bang & Olufsen launches TV BeoPlay V1 in the new Havana color, with a new stand Wheel in the same shade of color. The border between the design furniture and electronics surprising is always less marked, the limited edition was in fact defined to capture the hearts and eyes of the fans of the design that attach the same value to the design, in an extraordinary vision and an amazing sound.
B & O PLAY is working on the successful launch of its first television BeoPlay V1, with a special color and a new stand. Created for design lovers who look even television, the version of Havana BeoPlay V1 is the first that includes the new stand Wheel made especially for BeoPlay V1. And like other pieces of furniture in the home, it is aesthetically beautiful to look at even if you are not using.
The stand Wheel lets you place the TV to the desired location as needed. You can move forward and to the center to listen to the news or watch a movie. You can then close it again when you do not watch more television. In any mode, the TV and the stand, with the same finish Havana are presented in a simple form monochrome, functional and timeless.
According Henirk Taudorf Lorensen, Vice President of B & O Play, color limited edition is the result of an experiment carried out with a wide range of colors. "We have worked to create a shade and contemporary at the same time durable and flexible. BeoPlay V1 Havana is designed for those who trust their own taste and want to deviate from the normal flat screen televisions in order to be free to create their interiors according to their taste. Without compromising the quality of vision or the acoustics. "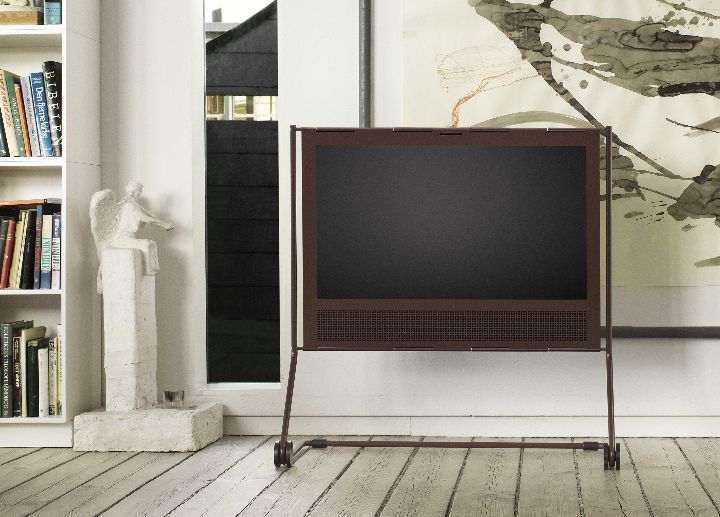 With the LED screen to 32 inches, a powerful and easy connectivity, BeoPlay V1 has all the credentials to satisfy even the most demanding video enthusiasts. The audio system includes class D amplifiers and a host of dedicated tweeter and woofer to deliver an acoustic fidelity extremely precise and powerful enough to compete with many surround systems with external speakers, subwoofers, cables and amplifiers, and the flexibility to BeoPlay V1.
BeoPlay V1 is ready for Apple TV: Remote BeoPlay V1 allows you to control all functions of the Apple TV and then has an area dedicated to enter the box Apple TV inside the back of the TV cabinet.
Available exclusively at retail, Bang & Olufsen in selected markets from October 10 2012 2.999 at a price of Euro.