Bauwerk Parquet / New Collection Master Edition
it has been modified:
2013-10-13
di
Precious, enveloping and luminous reflections that highlight the natural grain of the wood: Master Edition is the new collection signed Bauwerk Parquet. To give life to this'Limited Edition-of which will be produced only 350 specimens! - bauwerk has decided, for the finishes, the skill of Bavarian craftsmen of Schotten & Hansen, Experts in the treatment of surfaces with traditional techniques. Each oak plank Master Edition Studiopark (X 1700 150 11 X mm) then comes out through the rough stabilienti Bauwerk St. Margrethen (in the canton of St. Gallen) and then be manually finished with pigmented natural oils and waxes that give life to a flooring really unique, made with care almost "tailor."
Total quality that the Swiss company follows in every phase of the process without neglecting the crucial phase of installation, exclusively performed by installers who have attended the training courses organized directly by the parent.
For cleaning and care of the collection a special line was also created for products Bauwerk brand that includes detergents and various rejuvenating lotions for each finish. Bauwerk Master Edition Studiopark It is made only in oak and is available in six finishes: Brandy, Lino, caviar, Nutmeg, Nugat and Mother of Pearl.
The slats (X 1700 150 11 X mm) thanks to their low thickness have thermal transmission values ​​ideal for use with an underfloor heating system. In addition, like all Bauwerk parquet, do not use adhesives containing resins, volatile solvents or formaldehyde.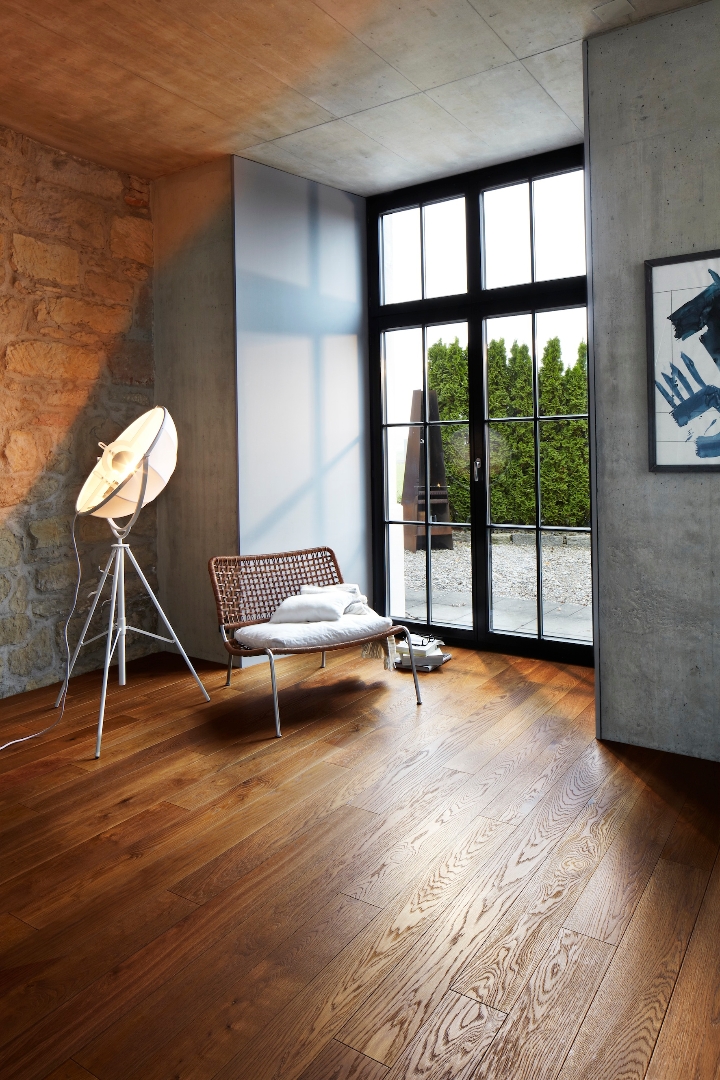 Founded in 1944, Bauwerk uses only wood from sustainably managed forests and certified European regions with regrowth. The focus on environmental responsibility, together with competence and selection of the best raw materials, make Bauwerk a reference point for those looking for quality and healthy living.
With about 600 collaborators divided between Switzerland, Austria, Germany, Netherlands, France and Italy, Bauwerk produces and markets more than 400 types of parquet and a wide assortment of accessories. In 2013 the company announced a merger with the Norwegian Boen AS, following which the Group was born Bauwerk Boen, second European producer of parquet.