aTrumpet, the new amplified sound reinforcement system for Passive Sound iPhone and smartphones it has been modified: 2013-10-25 di
Meeting the technology in a simple, economic and above all environmentally friendly. And 'This is the philosophy of aTrumpetThe innovative device designed specifically to meet the needs of those who own an Apple iPhone or Samsung and needs to have an amp fi cation of sound without the use of electricity.
aTrumpet is the new system of amplified sound application for iPhone and smartphones that lets you listen to music wherever naturally, as in a theater. The unique design and materials all ecological and zero environmental impact, make aTrumpet, recently landed on the markets and on the Internet, a must definitely born to take off.
"The ceramics, of which aTrumpet is trained - emphasizes the creator - it guarantees a clean and pleasant sound amplification, while the wooden support gives aTrumpet a modern design aspect with a retro touch ".
Creator of this amazing object all Italian, the Passive Sound, Venetian company specialized in the production of home accessories that have the functionality of care amplified the sound of the devices that you are going to enter.
The precision and care with which the product is made, give each piece a unique and original touch. Wood is the other material that characterizes aTrumpet, used to support the structure and contain the iPhone which, as soon as it is inserted, will tend to amplify the sound in a completely natural way. "The logic is the same as when we place the spoon hand in correspondence with the speaker - the manufacturer pointed out - but the result is much superior.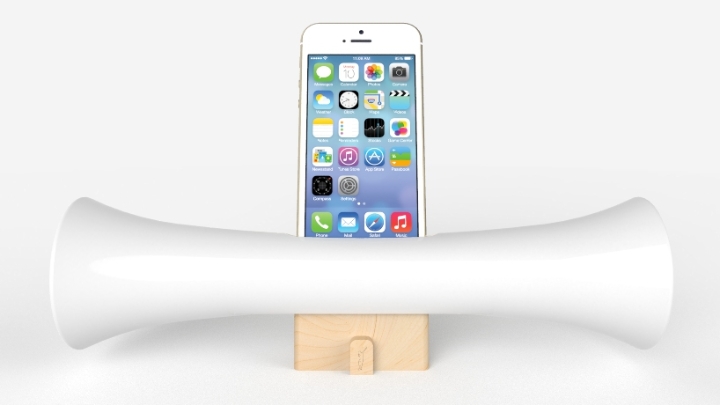 aTrumpet unable to care amplified the sound of well-10 dbMainly the high / medium and less bass, this is related to the technique used that does not use electricity. E 'compatible with all iPhones starting from iPhone 4, then 4 | 4S | 5 | 5C | 5S and iPod Touch 4 | 5. It is also compatible with Samsung Galaxy Mini S4 ".
Each piece is created by hand by expert hands and, to meet the needs of the customer, are available different colors and combinations. The ceramic part can be black or white and combined with a wooden base chosen from olive, maple, walnut or wenge.
In compartment wood to avoid scratched, the designer has added a strip of fabric Alcantara that protects both the smartphone that the amplifier itself. An object in its simplicity intelligent and innovative that allows you to play music everywhere, even where there is no power.
aTrumpet already purchased online at www.passivesound.com at a cost of € 139.
The shipment of the device is available throughout Italy