X-Five, the new microfiber ottomans, also available in the color of pumpkins it has been modified: 2014-10-17 di
On Halloween, the color of the pumpkins becomes a must have also in furnishing.
To celebrate with friends or children, XPOUF, young brand that draws inspiration from the world of windsurfing, offers X-FIVE, in its variant orange.
X-FIVE the new pouf modern, fully Made in Italy and customizable in ten color shades thanks to the cover, designed to be used in five different sitting positions.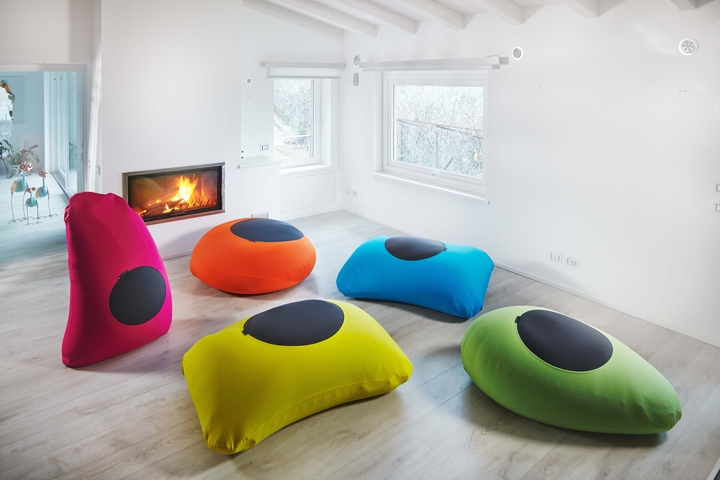 XPOUF born from the creativity of Alessandro Comerlati, four times Italian windsurfing champion who, precisely from the colored, elastic and resistant fabrics used in this sport discipline, drew inspiration to create poufs with great comfort, with an attractive design that adapts itself to the shape of the body every time. The seats of the X-FIVE model change according to the movements of the body, thus giving the pleasant sensation of immersing oneself in a real "cuddle".
The X-FIVE model is composed of two elements that give maximum comfort, ergonomics and versatility:
the core, ie the bag containing polyurethane microspheres combined with elastic microfiber give the comfort seat, unique malleability softness;
the cover, or the colored outer coating, in microfibre elastic, which has the task of protecting the ottoman; is removable and machine washable at 30 °, available in ten different colors, and can be ordered separately to change dress according to the occasion and requirements.
In addition, the X-FIVE ottomans are lightweight and easy to lift and move, ideal for evenings with friends or for a quiet moment of relaxation. The maintenance is simple: they are made with easy-dry fabric, breathable, dries easily.
The X-FIVE by XPOUF are a design product, innovative and essential, soft, enveloping and above all fun, capable of giving an extra touch to the interior design.
More information that