TEAM 7 table presents yps and aye chair in solid natural wood, for living it has been modified: 2015-03-18 di
TEAM 7 presents its novelties for the living area: the yps table and his faithful companion, aye chair.
A blend of shapes and materials to decorate with color and elegance of natural wood.
TEAM 7 is an Austrian company leader in Europe in the production of furniture and accessories in natural solid wood.
yps table | Design Jacob Strobel
In "Y" nature is a form of base for stability because it absorbs the forces that are imposed. And it is precisely this principle that inspired Jacob Strobel for the study and design of yps table. Resting on flared legs in the shape of Y, the natural wooden table yps, elegant despite the thickness, it is solemn and light as if it were a sculpture capable of giving to space aesthetic detail.
The "Y", as a basic form of the base, creates an area of ​​stable support, while allowing ample legroom. Thanks to the oblique edges, the yps tabletop acquires a modern and dynamic element, while sharp details, like the band on the front edge, witness the traditional craftsmanship.
Even the appearance of wood panels comprising a three-layer non-deformable and wood joints emphasize the high-quality TEAM 7 which translates into sensual embodiments, authentic, original and extreme precision aesthetics.
Yps the table with fixed top is available in three widths (90, 100, 110 cm) and 8 lengths (in 140 300 cm) in the usual essences TEAM 7 (alder, beech, core beech, oak, wild oak, Oil oak white, wild oak white oil, cherry, walnut, wild walnut and maple white oil).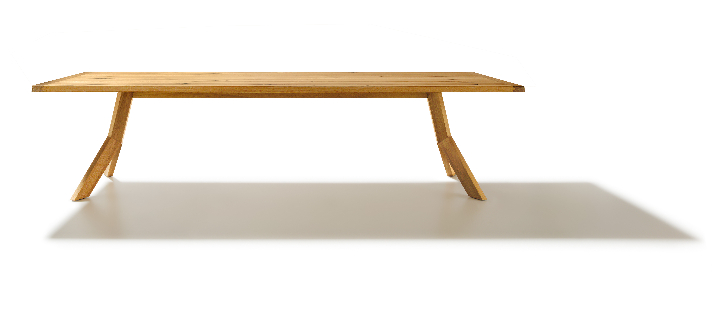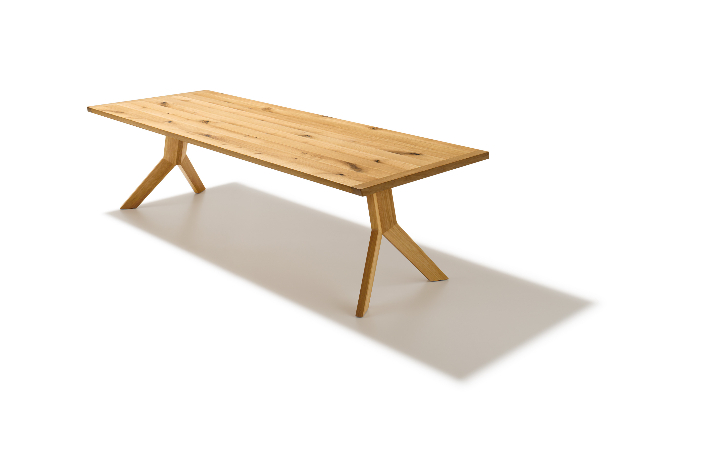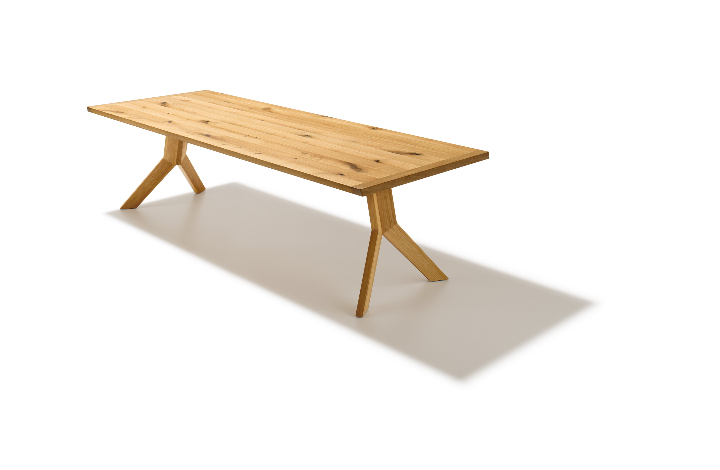 aye chair | Design Jacob Strobel
The chair aye, signed Jacob Strobel, is one of the most successful projects of chairs of TEAM 7. Awarded the red dot award interior, aye convinces with perfect mix of formal beauty and ergonomics.
The thin seams, made with aesthetic touch, run through the back of the padded seat and witness the highest craftsmanship typical of TEAM 7. Until now aye was available only in the classic version with four legs, is now made with swivel base in natural wood.
In all versions, the sensual warmth of natural wood creates a nice contrast with the padded seat. The solution with swivel base reveals not only a new aesthetic quality but also offers new mobility. Thanks to the mechanical swivel cushioned, aye is lowered gently when you sit down, and when you get up automatically returns to the starting position.
aye is available covered in fabric or leather, in combination, in a variety colors; in this way the freedom of layout is virtually unlimited. The palette of shades available is now being added twelve new shades.