LOUNGE OF STEAM GRANDFORM PROJECT: Complete free-standing spa
it has been modified:
2014-05-20
di
Grandform Project presents Steam Lounge, Design Giovanni Ligorio, Luiza Paste,
a free standing structure for a complete wellness: steam bath, shower with waterfall, color therapy, aromatherapy and music.
Each element Steam Lounge, colored finishes, is designed and crafted in harmony and balance to create a cozy and charming where treat yourself moments of relaxation and comfort in your home space.
A product "turnkey" which minimizes installation time and avoid masonry. The structure of the Steam Lounge has a special texture that creates a very pleasing to the eye and to the touch: the pure white of the exterior of the side walls and opposed end wall finish gray natural stone. The large seat, located inside the hammam, invites relaxation.
Steam Lounge is available in two models that differ in size and the steam generator inserted in the structure: Steam and Steam Lounge Lounge 1 3.
Steam Launge 1
is equipped with steam generator Steam 1, the generator is displaced on the cover of turkish bath. Embedded in the roof of the structure are also included shower zenith with effect Big Rain and picturesque waterfall blade that creates an enveloping water feature reminiscent of the gush of natural springs.
The large seat, located inside the hammam, invites relaxation and streap lead creates a play of light. Through the LCD control panel you can control:
On / off.
Activation of the steam and its regulation of the temperature and duration.
Lighting. Steady light to illuminate the interior of the hammam.
Chromotherapy. With a choice of a color in static mode, or a sequence of colors.
Adjusting the radio.
Extraction fan
Music can also be managed via smartphone or reader MP3, positioned outside the structure holder. The size of the Steam Lounge is 1 200 150 × cm.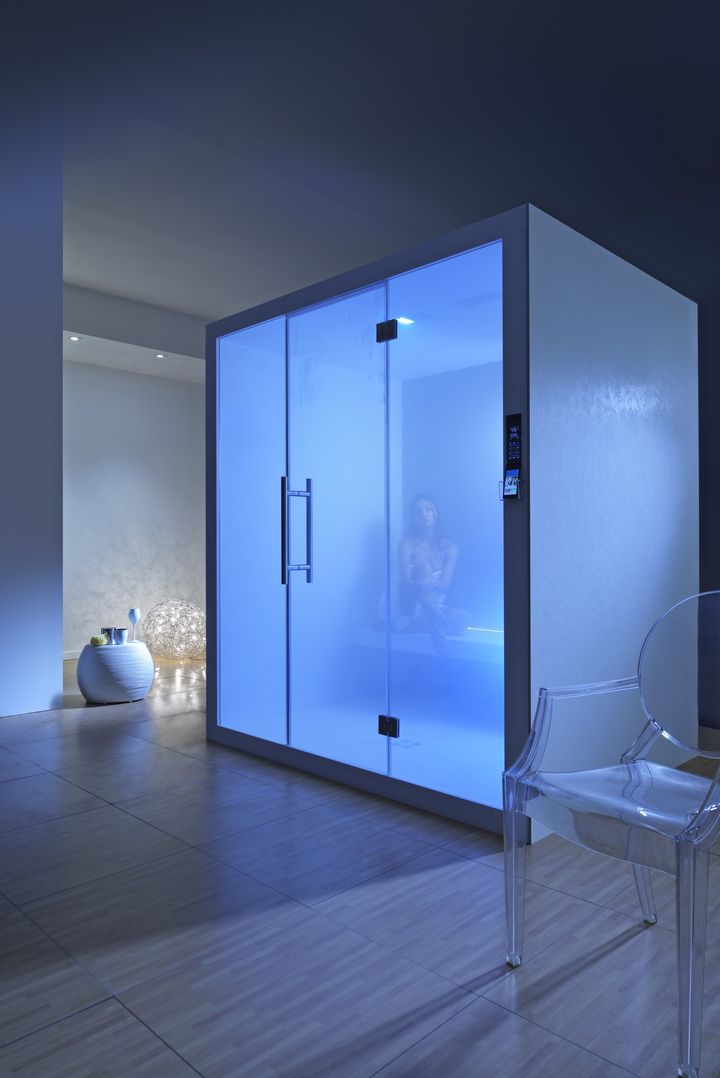 Steam Lounge 3
It is equipped with the steam generator Steam 3 of Grandform and is available in size 150 100 × cm. Steam 3, which has the appearance of a shower column, it is equipped with thermostatic mixer and is complete with three jets for back massage, waterfall blade and hand shower. Colour therapy is managed with StripLED on both sides of the column it is thus framed by two striking beams of colored light.
The LCD control panel is located on the shower column and can handle the following commands:
On / off
Activation, adjusting temperature and duration of steam
Lighting
Chromotherapy
Adjusting the volume and storage radio channels
GF Steam 3 has semi-inset. The projection from the wall is only 5 cm and is recessed into the wall to 10 cm. Steam Lounge combines design and performance to the suggestion of combining the functionality of the turkish bath shower, in a single product.
More information about: www.grandform.it