"Portraits, Reflections" exhibition of art and design, up to 14 November by Leo Galleries in Monza
it has been modified:
2015-11-09
di
Bartoli Design It is one of the stars of the show "Portraits, Reflections", set up for the first time in the spaces of Leo Galleries, in Monza, from 15 October to November 14.
It is an exhibition that staged art and design creating a real dialogue between the works: the intense and engaging faces, made with a stroke decided by the artist Roberta Coni, are mirrored with their investigative gaze in the reflecting surfaces of the pieces by Bartoli Design, giving rise to a new artistic concept that is the union of the intuitions of both protagonists of the exhibition.
To give shape to the ideas of Bartoli Design is the company's decades of experience Laurameroni of Alzate Brianza, able to express the materials through a meticulous search for innovative solutions. The creativity of Bartoli Design, the intensity of Roberta Coni, the productive ability of Laurameroni and the intuition of Leo Galleries, give life to a dialogue with four that expresses a moment of synthesis and artistic creation of great suggestion - the first episode of a research that over time intends to investigate different themes through the combination of art and design.
In "Ritratti, Riflessi", the design studio interprets the comparison with art by presenting Cirque and Stars, iconic and abstract works - in whose reflecting surfaces the pasty and deep touch of the portraits is reflected. Other geometric surfaces, in absolute brushed black, reflect faint reflections of light and contrast, enhancing, the luminous expressiveness of the faces of Roberta Coni.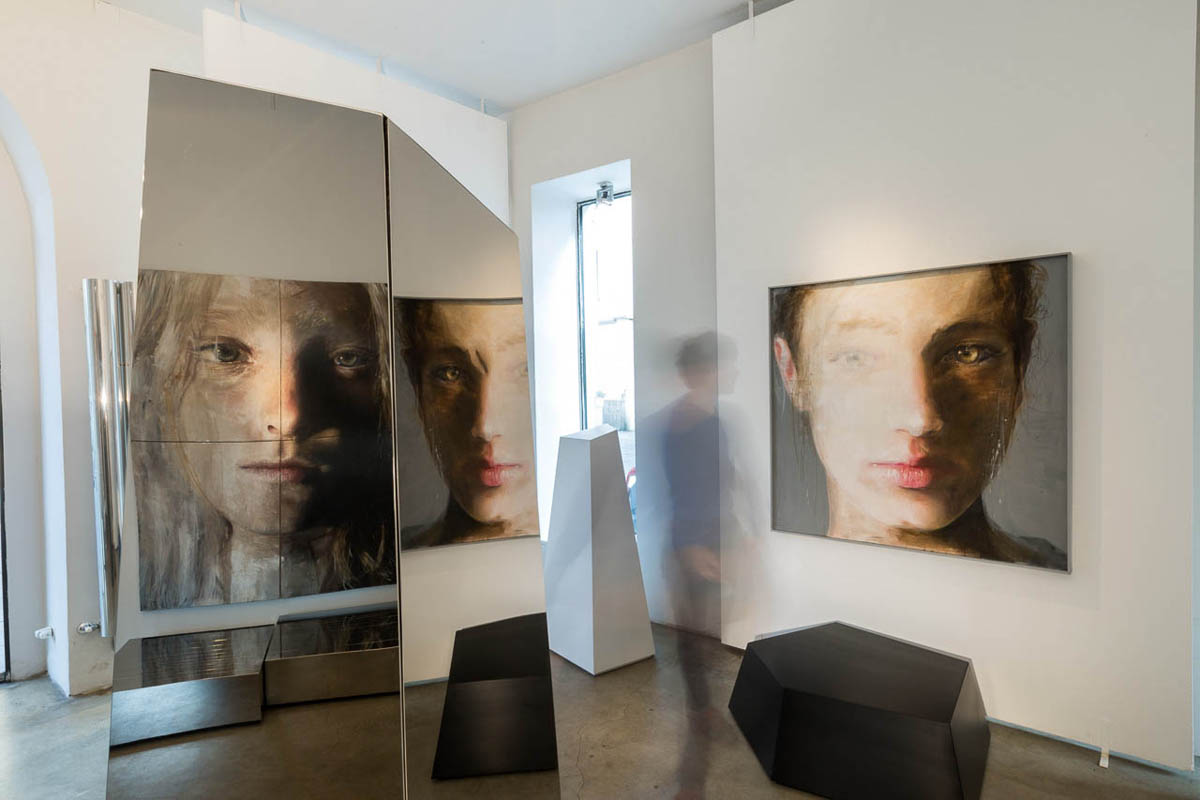 Circus
Containers as essential architectures, with a decisive and sculptural impact, which generate a mysterious scenario. Their slanted poses create an unexpected atmosphere, a slight disorientation; juxtaposed to each other, similar to metaphysical objects, produce a suspension effect.
Cirque comes in three sizes, in brushed bone white, brushed absolute black, mirror polished stainless steel and in two special editions in silver and black glass powder.
Stars
Geometric elements with a strong impact, surfaces decomposed in sequences of increasing and decreasing rectangles, where the repetition of simple lines draws inspiration from Op Art and creates a strong visual interaction with the observer. Fragments of shapes and glows of light are reflected and fade on the claddings in mirror-polished metal sheets or softened by brushing.
Stainless steel, black iron, natural brass, natural copper and burnished give light and material to the products and enhance the precious essence. The "color" walnut is the essence chosen for the interiors and as an option for the top of the sideboards.
Stars is a collection of furnishings and architectural elements: tables and small tables, consoles, containers, boiserie and sliding doors.