First Floor Cattleya Wellness: new project by Elisabetta de Strobel in the Public Design sector
it has been modified:
2018-12-26
di
Primo Piano Fitness & Cattleya Wellness was inaugurated in Verona, a new project of Interior Designer Elisabetta de Strobel. Spread over two floors, the structure is divided into the entrance of about 60 square meters, a gym 320 square meters, a lounge area with corner bar of 43 square meters, a training room (71 square meters) and the wellness area, consisting of pool and spa (in total 190 sqm).
The ground floor has a reception desk and offices separated by a smoked glass wall that gives an effect I can not see the environment. The entrance door to the wellness area is adjacent to a six-meter-high mirror wall that reflects one of the most distinctive and striking elements of the ground floor, the elevator. Completely transformed, it is covered by two graphics - a woman and a man who are performing physical activity - in a micro-perforated adhesive film of the Veronese company Publidecor. To highlight the idea of ​​continuity that has been given to the floor and walls, to create a whole, through the use of a PVC wood effect.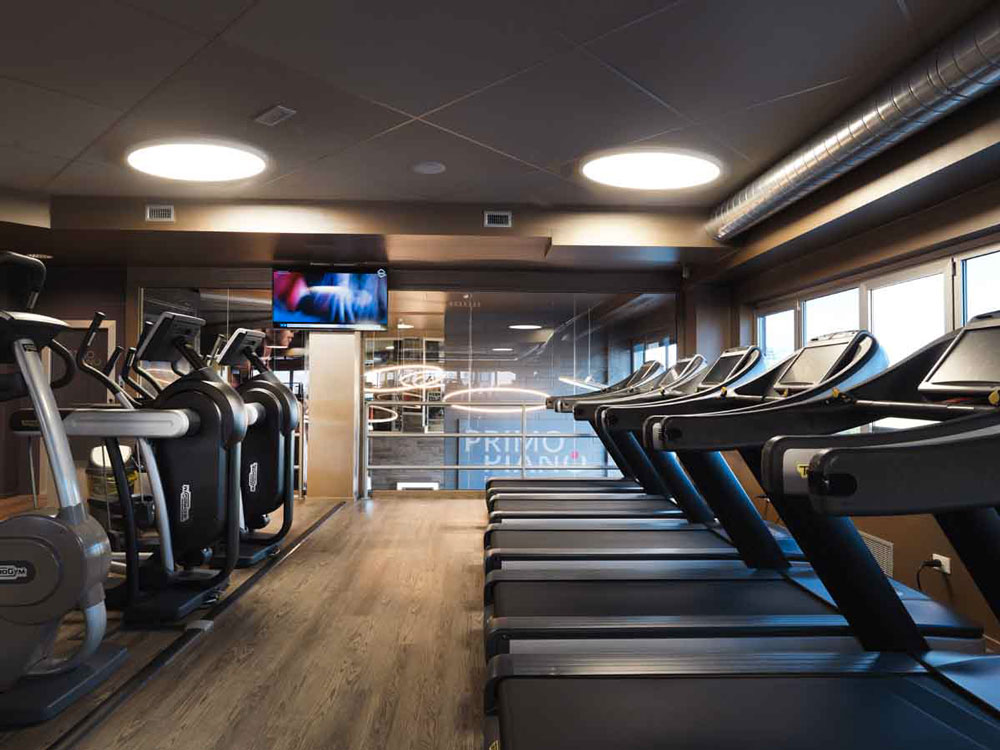 On the upper floor there is a large open-plan gym with selected latest-generation machinery (Technogym and Canali), lit by large windows, and a lounge / bar corner where technology is the real protagonist: distributors regulated by apps and microchips allow a break of interactivity. Highlights are the Brunello 1974 yellow sofa, the result of exceptional craftsmanship. To complete the first level, there is a room with a projector to access group or private activities with personal trainers or online videos. The wallpapers, supplied by the Reggio Emilia Tecnografica company, are personalized and become an essential architectural support.
"We have taken care of the concept of the entire premises, namely the colors, the wallpapers, the lining of the goods lift, the resin of the stairs, the glass parapets and their lighting, the mirror wall, the arrangement of the furnishings and decorations flowers and the lighting of the pool area ", said Elisabetta de Strobel. "The most important element of the whole project is certainly the scenic value of the entrance".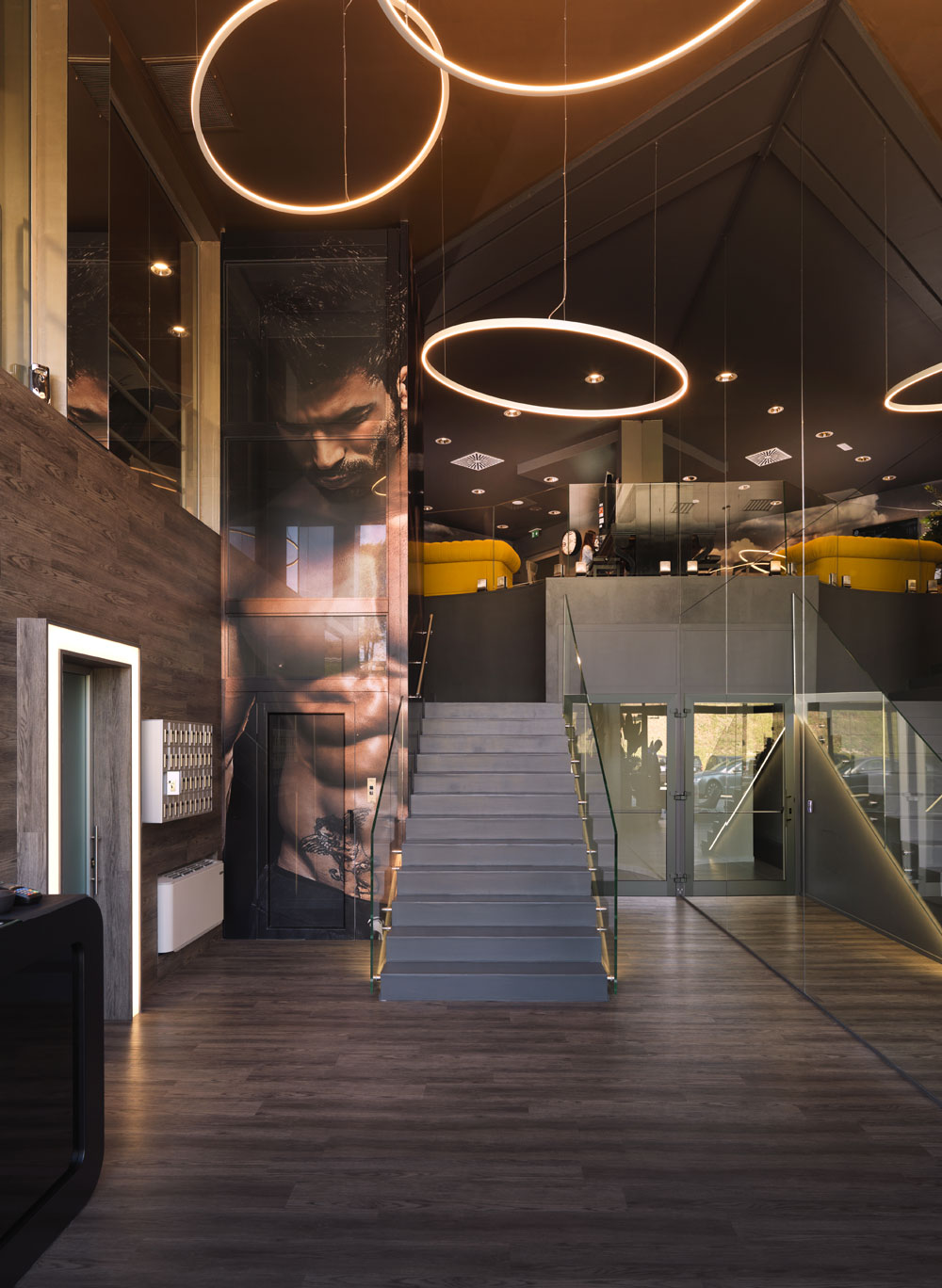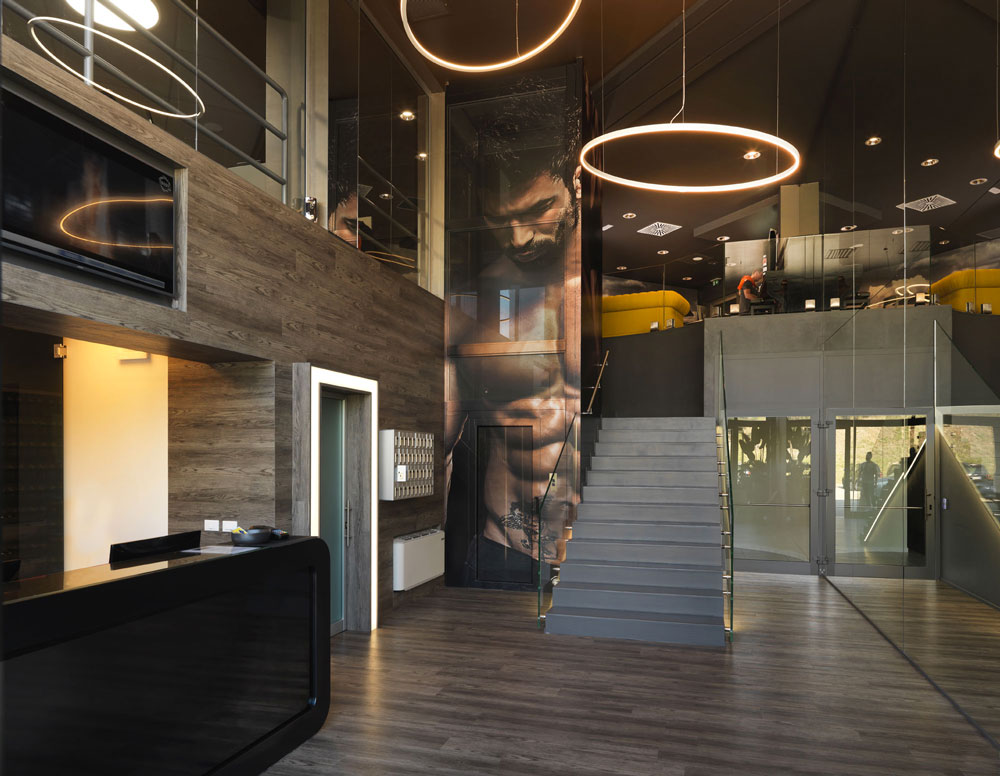 Photo credit by Maurizio Marcato