Interior Design: New Online Shop
it has been modified:
2017-02-07
di
User in focus: a new light in the Shop Online
Less than two years after its publication, E-shop Mohd It recalls the look and invents a new concept of design in buying online.
A lot of news over the previous version, especially in its navigation: browsing for environment and designers easily and fast, deepening the design history while you buy.
You are welcomed with open arms from the first floor which governs the Homepage, a quick focus on the latest furniture, curiosities about the designers and promotions.
MOHD guide and pamper the visitor in the discovery of the beautiful, doing explore discreetly the cult of the past and future trends; proposes ideas, lifestyles and thoughts on how to decorate the space that you live.
The real added value of the new shop online for Home Design is the section dedicated to the design: The user searching the web inspiration for your own home or office, it lands on the shop of MOHD and can easily find all the answers. Knowledge and years of experience are put at the service of the visitor, who in just one click find furniture and design solutions, at no additional cost.
The new E-shop is smart, is clear, transparent, not only in its navigation organized environment, or brand or designer, but also in its design itself, in bright colors chosen for its redesign.
A mature company that has, with authority gained over fifty years of activity, the big Italian and International Interior Design; It does not express preferences, but let the visitor get an idea of ​​what is and what might please him, suggesting, with discretion and tact, the way to go.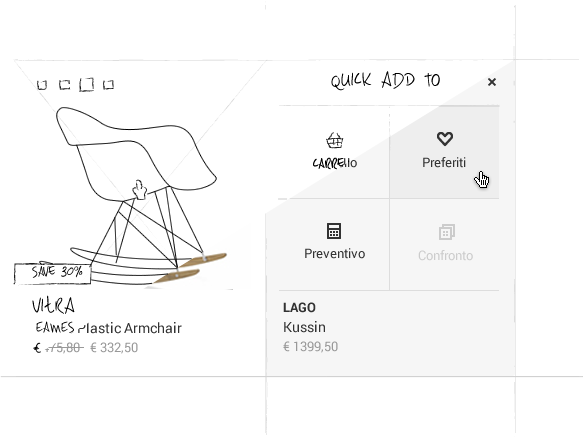 The new site the user is in the middle: a club reserved for access to further discounts, the price promised that reinforces even more the equity ratio between transparency MOHD and its customers, but also the opportunity to receive a customized price, thanks functionality, on some products, to request a quote in private.
MOHD not builds loyalty, does not ask, does not impose itself simply is present in the international Interior Design with discretion and authority, and draws along old roads with new and inspired imagination.