The contemporary design of the Mobart Ben collections revives an old renovated barn
it has been modified:
2018-02-09
di
An old and traditional barn - called Tablè Tisleri - located in the Belluno Dolomites has returned to life after a wise and careful renovation that has seen the MOBART BEN collections as protagonists.
The Maison agordina - reference point throughout the territory for the design and construction of furniture and wood finishes, tailored and designed - has in fact designed and built the wooden furniture of the entire living area.
The owners, respecting the original architecture of the structure, have kept the roof of the roof exposed and have chosen custom furnishing solutions, alongside some pieces of design.
A horseshoe composition has been studied for the kitchen, positioned at the center of the room, with a modern and extremely minimal style. The bases - which house the fire area and the sink - and the wall with the appliances have doors in Fenix ​​Nero.
Almost to embrace the composition on two sides, a snack counter, characterized by a thick top and a structure with horizontal slats of different width, made entirely of old wood recovered from ancient barns, suitably cleaned by hand from splinters and impurities, and finished with natural "velvet" effect oils to hydrate it and guarantee water repellency.
Also for the bookcase, which is the setting for the reading corner, an ancient wood recovered and treated was used. The structure is composed of three vertical elements that carry the full height that support the shelves, without backrests, with a white visible wall in contrast and illuminated by a led band flush with the lowering of plasterboard above.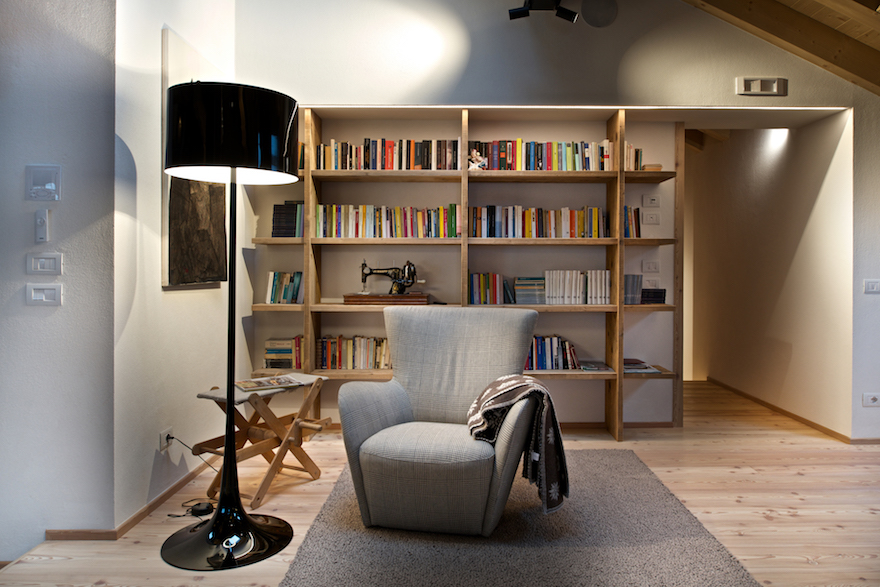 A low cabinet with sliding doors, always in reclaimed wood and here proposed in the "hazelnut" nuance has been studied for the most sloping part of the living area, following the trend of the double T overhead beam. in the "Blu di Lamina" finish that recalls the material and the finish of the beam, the latter connected to the piece of furniture thanks to a paneling with horizontal slats and complete with LED lighting.
Complete the composition, the inclined wall according to the roof, closing the technical room attic, also made of old wood with horizontal slats of different width, complete with flush door.
Next to the fireplace and in contrast with the finish of the same, a custom-made Anthracite lacquered bookcase.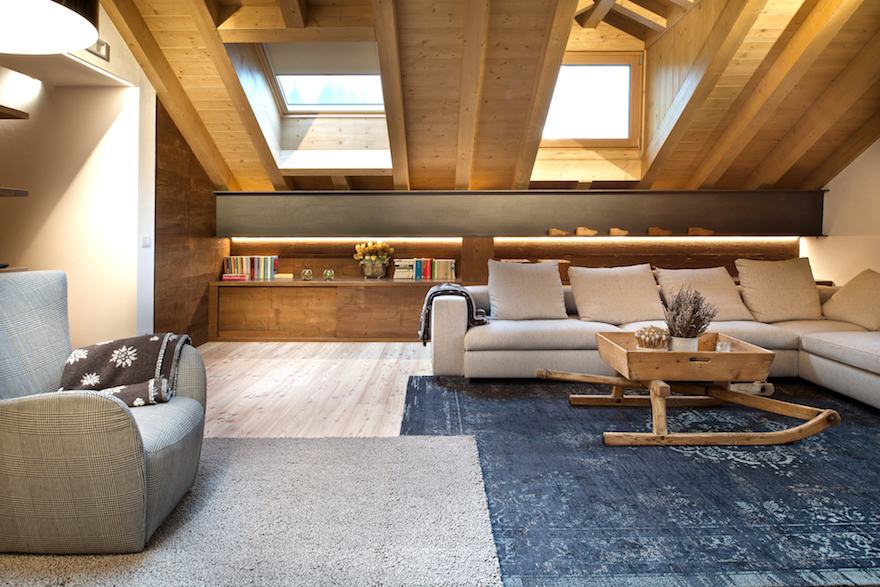 A warm and welcoming domestic "shelter", capable of transmitting peace, through a new spatiality and a profound harmony between nature and the environment.
All MOBART BEN collections are made with the finest Made in Italy materials and wood, such as Fir, Larch of the Dolomites and Oak, offered in the polished, brushed deep, hand planed or split with a lived-in effect.
MOBART BEN, an Italian company of reference for the design, production and supply of turnkey wooden furniture, tailor-made and designed, offers customized solutions able to create pleasant relaxing atmosphere, for the city and for second homes.