Arkizoic Circus - Loppis of Saint Lucia
it has been modified:
2013-12-11
di
On the occasion of the feast of Saint Lucia AtelierFORTE is organizing the fifth edition of Loppis! The 13, 14 and 15 2013 December. With the patronage of the Embassy of Sweden and Cologni Foundation.
Loppis is the Swedish name for the flea market that every family can prepare in your own garden or garage. AtelierFORTE is inspired by the atmosphere of these small markets to open its facilities to the public and welcome him with micro-cultural events: theater, about the stories and legends of Norse mythology, live music, Swedish delicatessen, bookshop dedicated edited by publishing houses , markets clothing and accessories.
In this context, it will open the exhibition of works by Duilio Forte Arkizoic Circus.
Homo videomaticus: the objective world
<< This year's creatures Duilio Forte come from the atelier. Their iron bodies are anchored to the workshop floor, but their souls are traveling far, far away. In the casing of iron, pony hides web radio, even for a computer programming. While, a hominid of the twenty-first century will eat coins of one euro to turn them into pictures online. The visitor will thus be moving toward a communication 360 degrees, to tell with pictures and to listen to different voices and new music. A ball in his hands the sculpture, like the one in the wizard's crystal, contains the mechanism that triggers a surprise effect. For digital natives and those who want the unique hand-made, the atelier Forte creations blend, now more than ever, the tastes and everyday gestures without sacrificing the originality of creation. The painted hand made iron and elements of Norse mythology now become platforms for electronic messages that start in all directions and from all over the world receive signals to be deciphered with eyes and ears. Let yourself go near and far with Sleipnir and Homo Videomaticus. >>
Irina Zucca Alessandrelli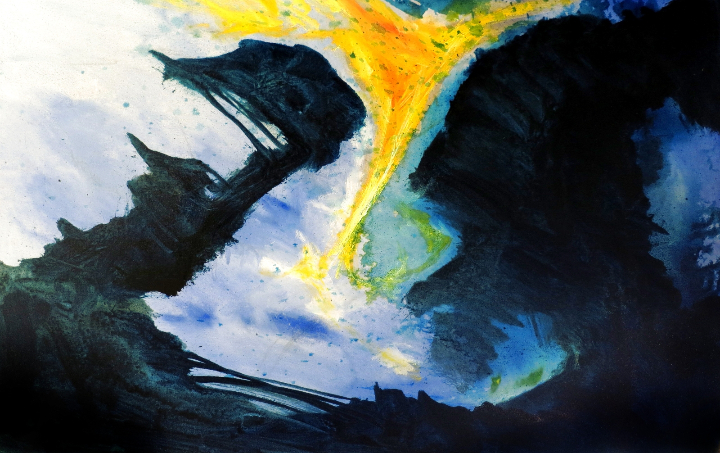 Program
Friday December 13. From the 18 24
Inauguration "Arkizoic Circus", works by Duilio Forte
Bookshop and AtelierFORTE market
Choir of Saint Lucia by The YESchool
My Sunday Spleen in concert
theatrical performance of The Ship of Fools:
- August Strindberg more or less, by and with Giulio Valentini, music by Daniel Defranchis
free Swedish lessons, organized by The YESchool
Glogg & Lussebullar
Saturday December 14. From the 18 24
Bookshop and AtelierFORTE market
theatrical performance of The Ship of Fools:
- The theft of Mjollnir, with Daniela Iotti and Roberta Paolini
- Odin, Lord of runes, by and with Giulio Valentini, music by Daniel Defranchis
Glogg & Lussebullar
Sunday December 15. From the 15 20
Bookshop and AtelierFORTE market
Special event. The Market of friends
Eija Tarkiainen presents the book "Mythology of the Kalevala", Juha Pentikainen
theatrical performance of The Ship of Fools:
- The theft of Mjollnir, with Daniela Iotti and Roberta Paolini
- Odin, Lord of runes, by and with Giulio Valentini, music by Daniel Defranchis
Glogg & Lussebullar
FREE ENTRY with the subscription card
www.atelierforte.com AtelierFORTE, via Corelli 34 Milan