RECORD You KITCHENS PRESENTS THE CUT it has been modified: 2014-10-17 di
The goal of the project The Cut Record is Kitchens is to give greater importance to the place dedicated to the banquet that is really the heart of the home,
transforming it from a passage room environment to live in full with family and guests.
The project name The Cut refers to the cutting of the volumes; In fact you have to imagine the work surface of the kitchen as a box divided into two parts, which can be repositioned for different configurations.
The table is in fact inserted in a housing of the main volume and in its primary structure has a small footprint, becoming a sort of support base in projection. But it can also slip out from the interspace to extend in length or be rotated to 90 ° to become a comfortable area for cocktails and quick meals.
Even the ceiling, an integral part of the project, follows this criterion of mobility, with a series of volume-container suspended that open by sliding them down. A sequence of rhythmic profiles with built-in LEDs that creates a configuration variable elegant suspended spaces, and incorporates elements that gently glide towards the lower part of the structure. Spaces designed to be used both as a showcase that as cabinet.
The choice of materials and colors plays on contrasts between light and dark, that is, between the burnished oak and white lacquer. The final effect is very elegant and is not interrupted even by appliances and fittings that, where do not disappear, they become a chromatic continuum with the rest.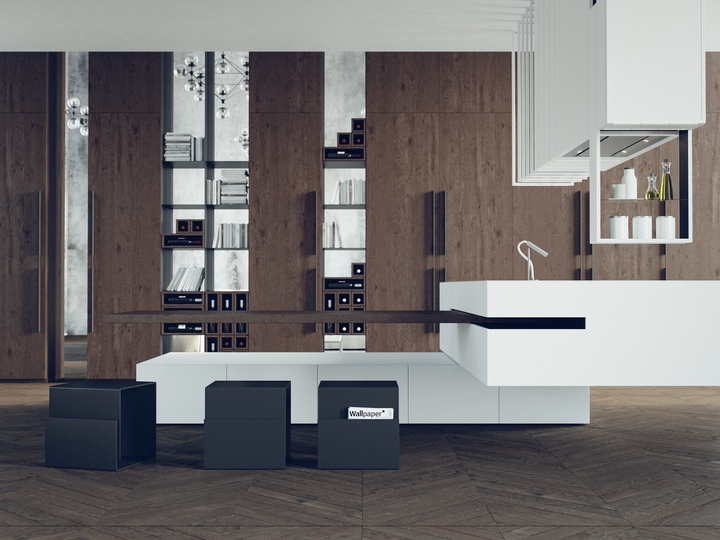 The Cut is designed to answer two levels of flexibility, both managed by the user: the first is related to the time of the configuration of the various components that can be assembled and set on request. The second is related to the daily use, here those who choose The Cut can decide how to rotate or slide the table, multiplying the profiles, and then the way of living space.