"Disclosed": THE THOUSAND SIDES OF DESIGN
it has been modified:
2014-04-07
di
Formabilio Disclosed launches, the twenty-ninth contest dedicated designers and enthusiasts decor. You have until May 5 to send their designs of furniture, furnishings and lighting that show their side "hidden".
What's behind? This question will have to answer participants Disclosed, the twenty-ninth contest launched by Formabilio, the Italian brand of furniture, lamps and furnishings that supports the eco-design shared and made in Italy and promotes projects and aspiring designers through online competitions.
Made in Italy and promotes projects and aspiring designers through online contests. The designers and fans of furniture that will participate in the contest will be asked to propose an idea of ​​furniture, lighting complement or where the inside, the outside, the back and the front of merge into a product that shows all that c 'is behind. Apart from the brilliant mind of a designer, the skilful artisan workmanship and excellent choice of materials, there are indeed other faces "hidden", all very attractive, that the imagination of the designer can help make visible. Proposals should be submitted using the appropriate section of the site from the hours 10: 00 2 of April at the 18.00 5
May 2014.
To understand the requirements and participate in the contest: https://it.formabilio.com/concorso-design/disclosed
The designer of the winning projects identified by the jury of Formabilio will be entitled to a fee of 7% on the sale of products on Formabilio.com.
In the shop's site formabilio.com are indeed available furniture and furnishings that have won the previous contest, and have become a trademark Formabilio exclusive products, such as: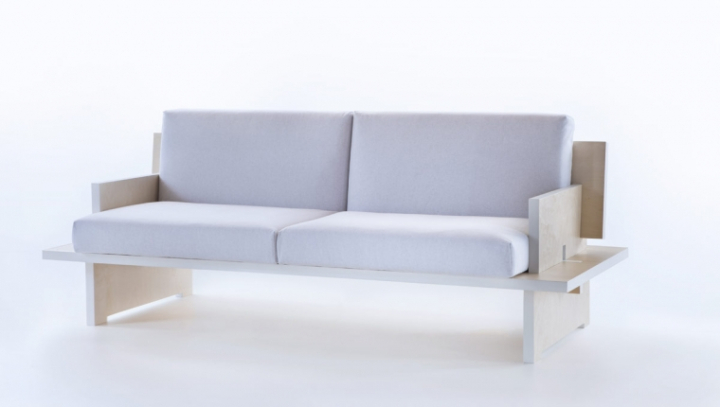 How many elements are used to make a sofa aesthetically beautiful, comfortable, young and easy to assemble? FIVE! Two legs-arms, a cross, a plan and a back and here a sofa extremely essential that does not require the use of screws or nails. Five mounts entirely fitting and assemble it really is a breeze. The result? A three-seater sofa, comfortable and durable, minimal design and impeccable craftsmanship.
Designer: John Agliottone
Production: Live in and Euroline Furniture for Formabilio.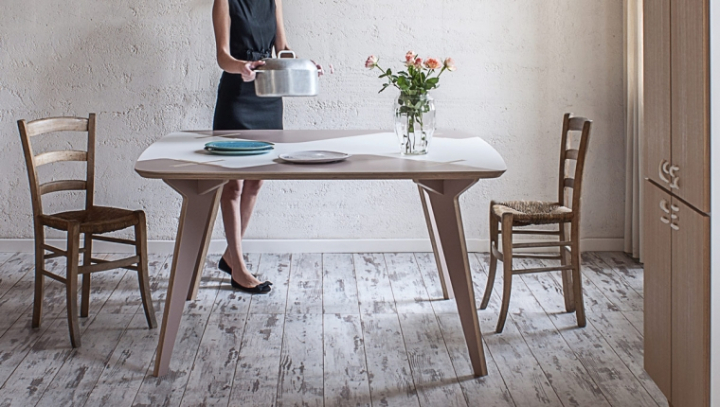 Lambro is a square table whose legs are mounted interlocking and form four crosses visible on which the plan, in turn composed of three elements connected together. The assembly system combines functionality and aesthetics and generates attractive colors: the curves of the central element and the different color suggests the river that flows through the levees. Lambro is a table of strong character, practical and spacious, around which can comfortably sit up to 8 people.
Designer: Andrea Casali
Production: Live In for Formabilio.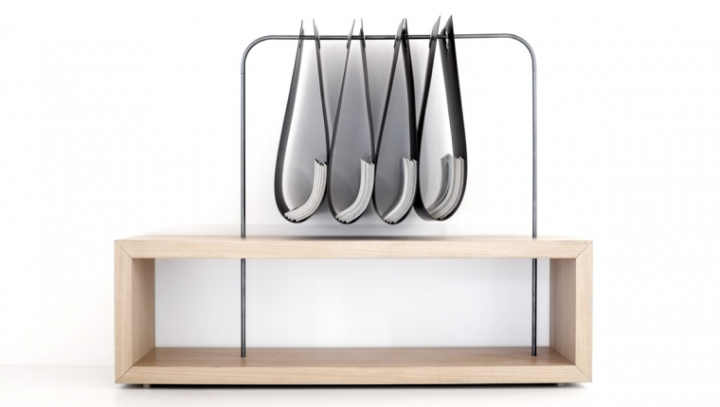 With Tasca do not have to choose whether to sort or decorate with style your space, you can do both! The pockets in leather collect magazines, rolls of paper, books, newspapers and the wooden structure is perfect to accommodate the notebook, the stereo, folders, shoes, aquarium fish and everything that comes to mind. Innovative idea for an original design furniture, pocket is useful for collecting, arranging, cataloging various things, keeping them always at hand and in order: funzionalissimo!
Designer: Vitomarco Marinaccio
Production: Live in and Euroline Furniture for Formabilio.
More information about www.formabilio.com