Competition Makemore: choose your favorite project and book it
it has been modified:
2014-09-24
di
There are five finalists that Monday September 15 compete online to win the title of winner of the first edition of MakeMore, the contest promoted by Veneta Cucine, in collaboration with MakeTank (www.maketank.it).
After jury selection, the choice of the winning pass to users connecting to the site www.make-more.it can book the object preferred helping him to reach first, by November 15 2014, the budget required. A book that will garantirsisi preview a copy of the product.
"The projects that we received were more than 80 and have proved very valuable from a qualitative point of view" declares Daniela Archiutti, Art Director of Veneta Cucine. "For the jury it was a real challenge to identify those that best represented the combination of new production techniques and traditional craftsmanship, as indicated by the announcement of the competition. We are very satisfied with this first experience, which we consider an important step to set a constant dialogue and evolving with the world of young designers, architects and makers ".
An opinion shared in full by Laura De Benedetto, co-founder of MakeTank, adding: "The strong commitment shown by Veneta Cucine in actively involve Maker, giving them the opportunity to turn a project into a product, it was a truly rewarding to MakeTank. Now the word goes to consumers: just book for their favorite for a chance, not only to support an emerging designer, but also to make an object unique and exclusive, perhaps for the next Christmas. "
The 5 finalists, selected by a jury composed of Daniela Archiutti (Art Director Veneta Cucine), Andrea Branzi (architect and designer), Dante Donegani and Giovanni Lauda (architects), Laura De Benedetto (co-founder of MakeTank) and Eleanor Rich ( designer and entrepreneur - Vectorealism), are a perfect combination of innovation and tradition.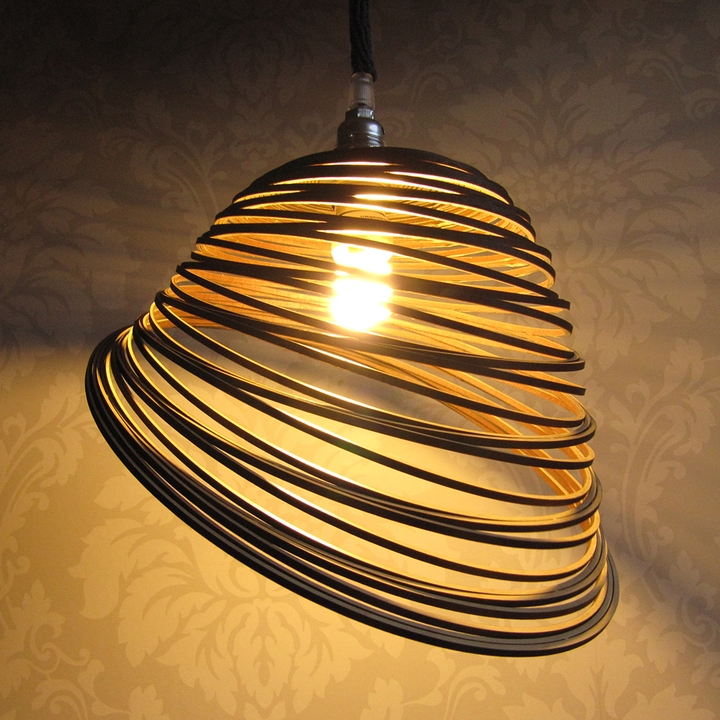 PLANISFERA - Suspension lamp (Koal by design)
The project was born from the idea of ​​combining the traditional aesthetics of wicker with the new production technology of laser cutting. The result is a flat structure which assumes third dimension thanks to simple gravity and according to the functional requirements or aesthetic choices by the user. Planisfera is composed of two layers: a wood sheet and a thin metal foil.
Koal design is a duo of Constance Giuffrida (Milan, 1987) and Alberto Gruarin (Pordenone, 1988), young designers graduate in Industrial Design at the Politecnico of Milan with a major in Industrial Design at the Eindhoven University of Technology. They love to design and create products that are simple but recognizable, with a keen eye to innovation, functionality and the relationship between object and user. Card Planisfera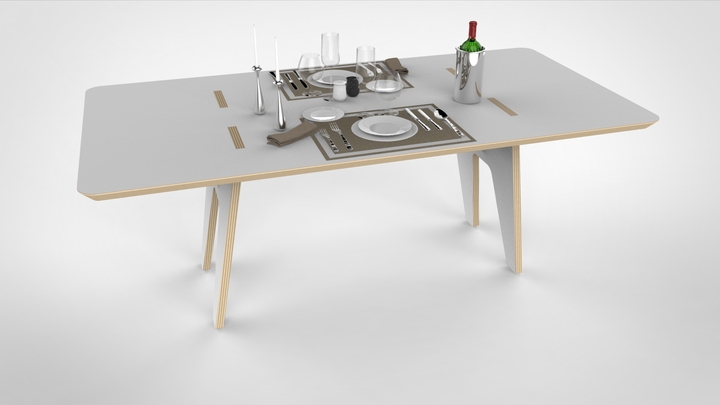 JOINT - table birch (by Andrea Casati)
the idea behind the project is to create a table is easy to assemble, with no gluing or mechanical joints, and suitable for any type of home and decor. Clean lines, yet sophisticated image, the joint is made of birch plywood panels with a supporting structure made from cutting CNC mill. And 'it proposed in the essential water painting white.
Andrea Casati (Cantu, 1975) he graduated from the Faculty of Design at the Politecnico di Milano in 2001 and worked at several design studios and graphic before landing in 2003 at Studio D'Urbino Lomazzi where refines skills and design skills in the fields of furniture, furnishing and product design. In 2006 creates study Andrea Casati Design and started working with important Italian and international companies. Joint board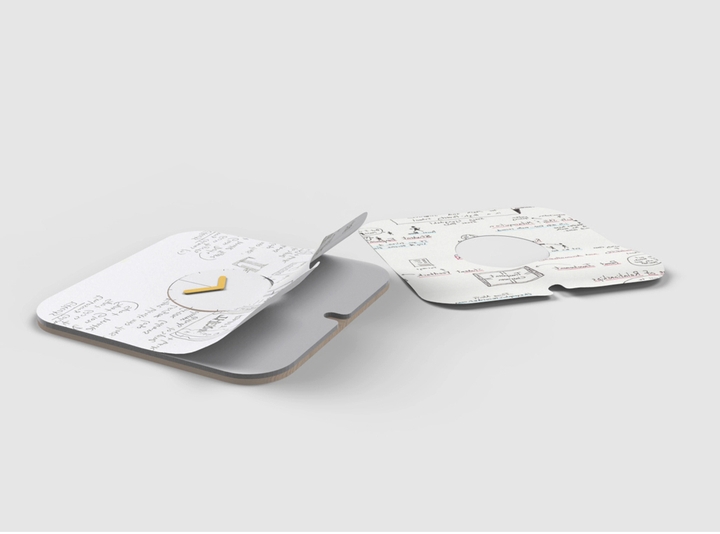 FACT - Wall Clock block-notes (by Philip Mambretti)
The project combines into a single object the functionality of wall clock and that of the block-notes. Base and dial of the watch are made of wood and, through a simple cut in 2D, united to a block-notes of paper sheets of which will be available spare parts.
Philip Mambretti (Como, 1981) student at art school in Canterbury meets Bruno Munari that generates in him a passion for design and design. He graduated in Design for furniture, specializing in "Furniture Design" at the Faculty of Industrial Design at the Politecnico of Milan and began working with various studies. In 2010 it creates Mambro Design Studio based in Chiasso (Switzerland). Professor of design wins and participates in many contests of design and collaborates with many Italian and international companies. Exactly card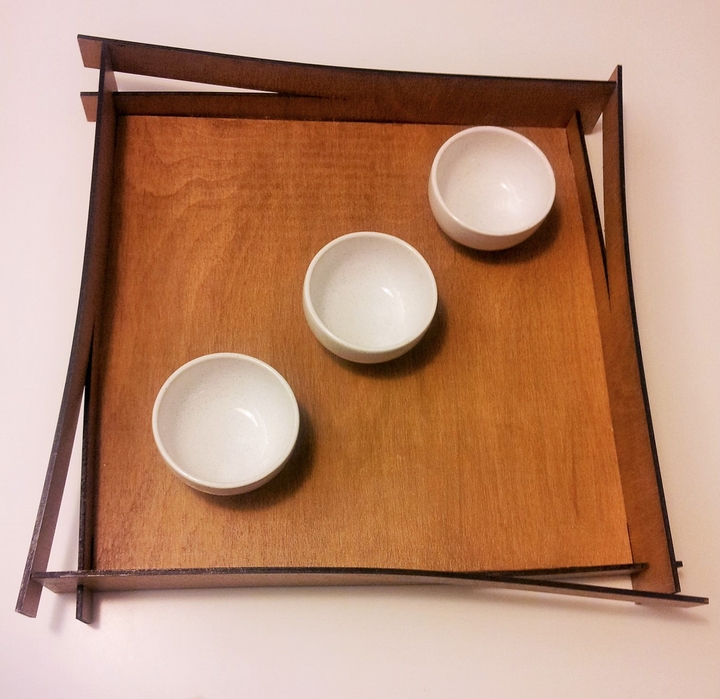 Tore - Wooden tray (by cbdisegno)
Made of beech plywood laser cut, Tore plays with the flexibility of wood to create a dynamic form and at the same time practical. The side elements of the sides of the tray fit together one with the other at the bottom, while the upper part, flexed outwardly, creates a comma useful as a foothold for challenging the object.
cbdisegno It is the design workshop of Claudia Bignoli (Novara, 1968), architect and interior designer from the 1995 2010, when he approached the world of design furniture and home accessories. Claudia designs and manufactures his ideas using skilled craftsmen in the industry. Card Tore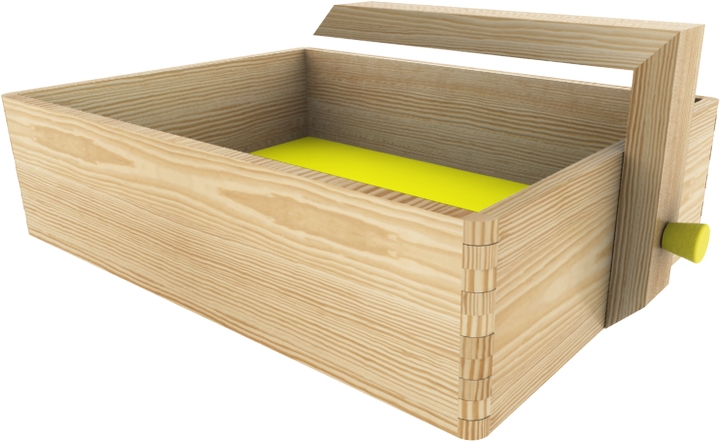 MAKESPACE - Container saving (by Mariano Spadaro)
MakeSpace is a modular element designed for both domestic spaces and for those professionals, with a structure made from natural ash and base covered with a colored film and customizable. Designed as a stackable, interlocking with battlements, MakeSpace reinterprets forms of the past with a contemporary feel.
Mariano Spadaro (Barletta, 1986) he graduated in 2011 in Industrial Design at the Faculty of Architecture of the Polytechnic of Bari. He collaborates with various studies of Bari and Florence, inspired by the great masters of architecture and design. After finishing a Master in "Exhibit & Public Design" at the Faculty of Architecture of Rome, in 2003 he moved to Frankfurt where he began a new adventure in culture, art and innovation. Card Makespace
The announcement of the winner will take place in December 2014 at the Show Room of Veneta Cucine in Milan.