HITO radiators and customized collection, the news of Arblu Cersaie 2014
it has been modified:
2014-07-14
di
Arblu presents a preview of the collection in the Hito cersaie 2014, A versatile furnishing solution, fitted, which meets design requirements and convenience.
Monoblocs and compositions are an example of how this furniture system can acclimate quickly and intelligently to every space, even the smallest.
This collection is characterized by a line clean, minimal, Emphasized by a handle invisible to guscia, which on one side acts as a practical ergonomic grip, the other gives space to the finish of the cabinet. The washbasin units can be completed with top with integrated rectangular tank in Tecnoblu or ceramic, both glossy white and thick minimal Pietrablu Trendy, top in wood and glass top.
Le finishes furniture are available in three different wood effect, modern and enveloping, and in 25 matt and glossy lacquered colors, to satisfy all the needs of taste really. Touch originality proposed by Arblu accessories are painted metal that will complement and enrich the compositions, with space solutions capable and adaptable; we talk about the Baby Carrier, to add to the vanity, the storage shelves in 3 measures, boxes and cabinets swivel.
The ergonomic washbasin semi-recessed well plugs into the base space-saving depth 36 centimetres.
Pouch, metal container painted, can be fixed in a simple way to the vanity, either on the right or on the left one.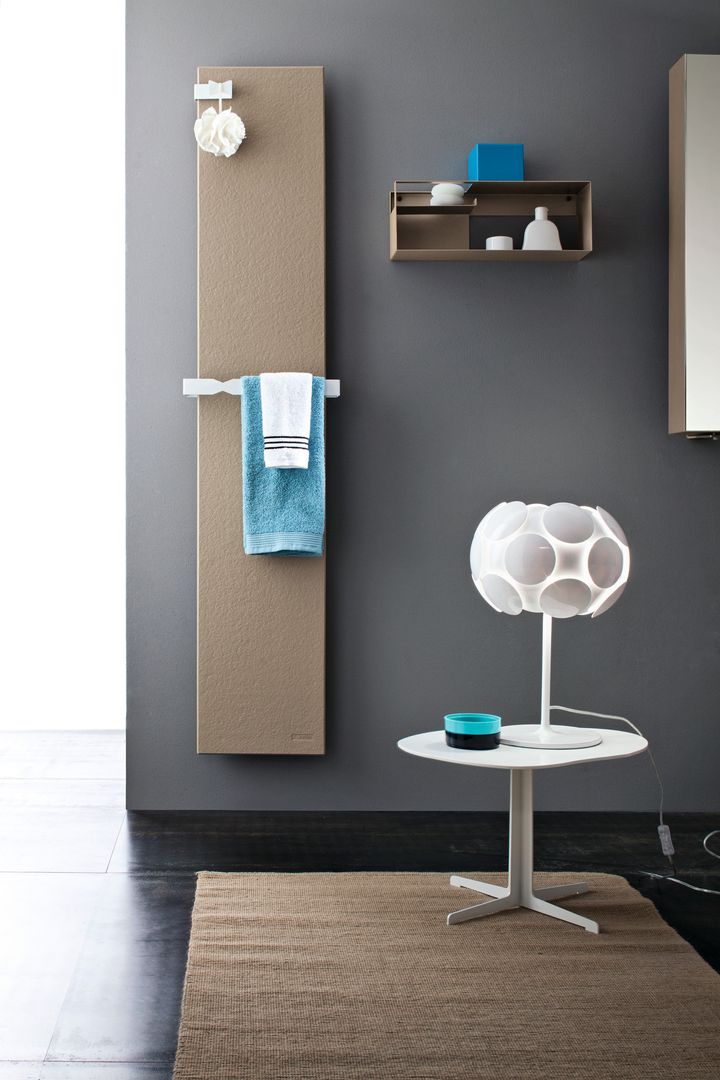 Complete the proposed Arblu for a full bathroom furniture, new termoarredi electrical Livingstone® custom Arblu.
Livingstone® is a patented technology and innovative uses recycled materials, powders marble agglomerated with water-based with a cold process, for produce surface design.
Arblu offers the radiators in two measures, 33 180 × cm and 55 110 × cm. Finishes presented are the same shower trays and walls PietrabluTM: anthracite, white, cocoa, cappuccino, cement and gravel for the effect slate, white, rope and gravel for the wood effect.
More information about: www.arblu.it