SenseKnit by Material Balance Research
it has been modified:
2019-04-04
di
SenseKnit, presented for the first time at Made Expo 2019, is a sensory pavilion that combines tradition, innovation and digital culture in a single project, key elements in the transformation of design and construction.
The full-scale prototype will again be displayed in the area of ​​the fuorisalone 2019 in Piazza Città di Lombardia, from 9 to 14 April, exhibition accompanied by the opening seminar SHAPING TEXTILE FOR ARCHITECTURE (9 April, 18, AUDITORIUM TESTORI, in Piazza Città di Lombardia).
The project is the result of an interdisciplinary research carried out at the Milan Polytechnic by the Material Balance Research group, the SAPERLab laboratory and the TextilesHUB laboratory of the Department of Architecture, Construction Engineering and Built Environment and the Knitting Laboratory of the Design Department. The Stoll knitting machines and the collaboration with the company Kn-Hit, a dynamic and innovative company in the textile sector, made it possible to create the entire covering of the pavilion with knitted fabrics, optimized with the technology of digital knitting. This makes it possible to vary the environmental performance of the meshes, with performative purposes, and to revive a mastery of the past in the future.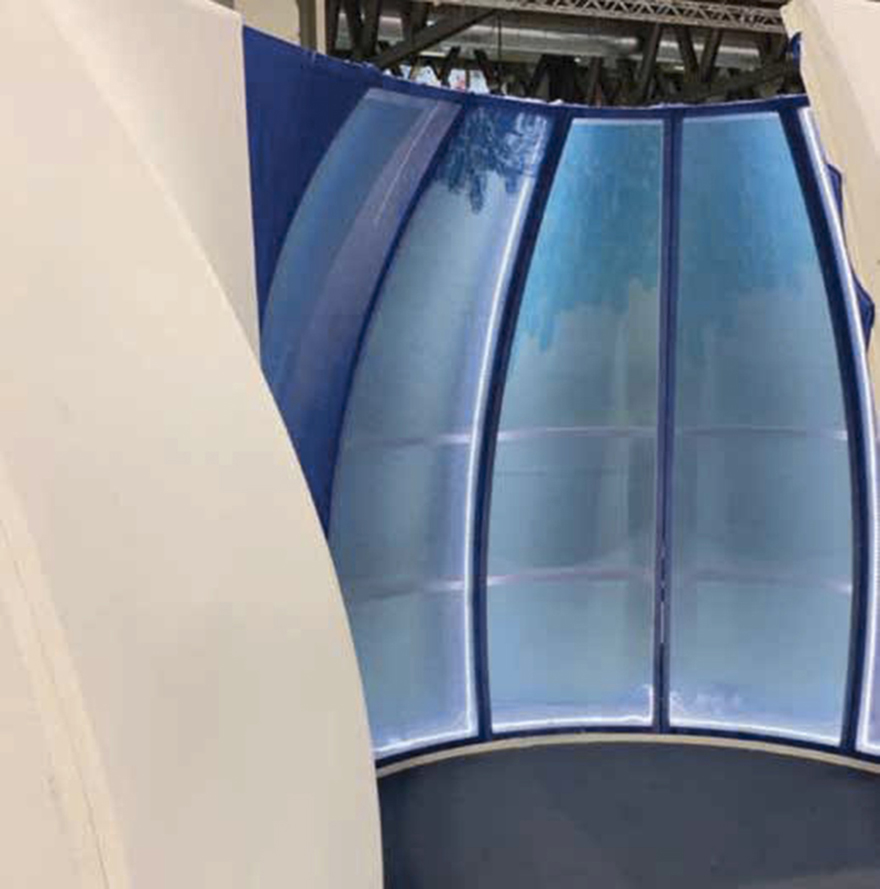 For the production of knitted fabrics, technical yarns with advanced properties were used, in particular the high-quality and performance recycled polyester thread, obtained from post-consumer plastic bottles, made through Sinterama's Newlife ™ process. Among these, the high performance acoustic thread obtained from the HollowCore special fi bres. In some sections of the pavilion, the photosensitive lumen Lumen by Linea Più Italia was also used, a cotton ribbon coated with photosensitive pigments, capable of assuming unprecedented shades of color when exposed to direct sources of ultraviolet rays.
The SenseKnit pavilion is divided into four areas that offer different scenarios of sensorial comfort, thanks to the action that each jersey exerts on space. The areas o er different performance, acoustic, structural, climatic and visual, conceived as a response to some of the emerging needs of contemporary space, which evolves at ever increasing speed.
Acoustic comfort is a requirement that is now indispensable in contexts, increasingly used, of shared and crowded spaces. The need for structural e ciency shifts research into variable section meshes, which make it possible to obtain resistant structures but, at the same time, read.
From a climatic point of view, knitted fabrics are used to control air fl ow, in order to make a distribution of them. From the optical point of view, the porosity of the mesh helps in controlling the luminous comfort, but also in the creation of new visual e ando ects, filtering the light in different ways and intensities. The proposed scenarios will give a vision of the potential of the use of digital knitting and of technical threads, technologies and materials that could revolutionize the way we design and live our spaces.