Organic Cities / Luca Curci Architects
it has been modified:
2013-12-09
di
The architectural firm Luca Curci architects conceived and elaborated "Organic Cities": A project that, based on the peculiarities of the city "organic", aims to stand as focal point of the skyline of the UAE. These new "organic aggregates" constitute real urban complexes consist of residential areas, business districts, shopping, spa and cultural sites. The purpose of the project is to create aggregations of buildings-town where you can work, meet, create and live culture.
The project was developed starting from the conceptual study of symbols and meanings attributed to the natural elements. The building complex is divided into two groups: the "palaces organic" on land and "moons" of the sea. Both groups are linked and joined together through the streets, parks, bike paths and pedestrian. Aggregates on the coast are characterized by organic shapes and futuristic. The moons in the sea are divided into 3 types: the smallest are conceived as residences with access to beaches and private landing area, the hotels in the moon's average size house hotel accessible by land, sea and air, while the largest moons are consist of hotels, apartments and private homes.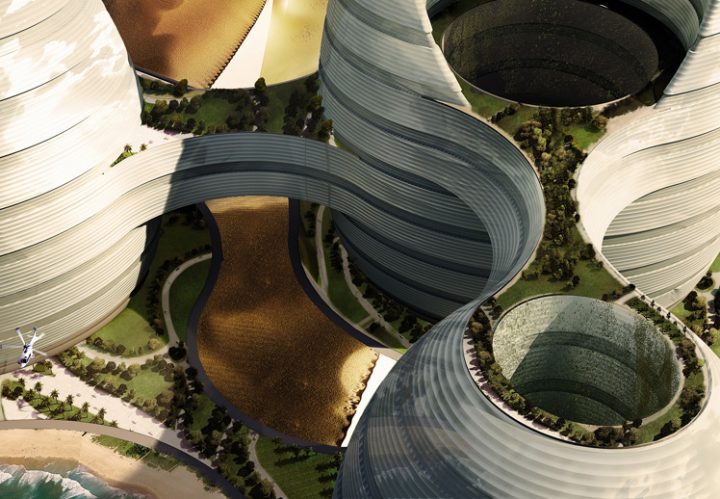 The entire floor area of ​​the buildings will accommodate more than 150.000 inhabitants, With 50% of the space dedicated to green areas and meeting. More than 800.000 meters squared spa, hotel and wellness areas; 6.300.000 square meters of shopping areas, galleries, museums; 4.500.000 square meters used for offices and services.
With a covered area of ​​600.000 square meters, the program will residences, offices and retail space and collective. The tallest building will reach 470 meters, while the second and third agglomeration will be proportionately lower. The moon in the sea highest reach 190 meters, while the second will be 115 meters and the third of 90 meters.
The "palaces organic" have a form designed to integrate seamlessly with the landscape and environmental conditions of the desert, and are designed taking inspiration from the forms that live in nature and are able to survive in those particular environmental conditions. The "palaces organic" will be the evolution of the contemporary metropolis. Allow again to develop connections and relationships between humans through thousands of clichés and aggregation that will overthrow the power of alienating metropolis of the twentieth and twenty-first century.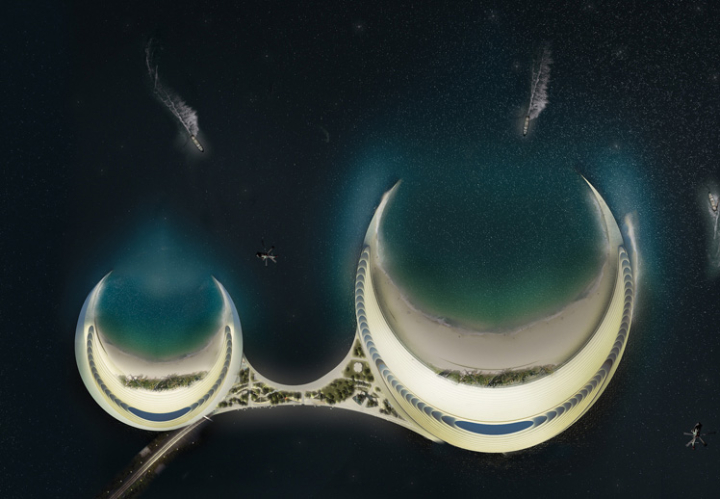 The master plan was designed to be adaptive and subject to evolution. This will depend on the area that will host the project. The first buildings 5 5 organic and moons have all services necesssari in a contemporary city, focusing on the social aspects, the human connections and places common to meet up.