Hangar Design Group designs new flagship store Deborah Milano it has been modified: 2013-05-29 di
The flaghsip stores in Milan, Pavia and Verona of Deborah Milano, a well-known Italian cosmetics brand, are presented with a concept entirely signed by Hangar Design Group, Marking the debut of the historic Milanese fashion house specializing in retail.
In the heart of the shopping area, the number 58 of Corso Buenos Aires, only opened a few months ago the new Deborah Milano Store signed by Hangar Design Group, Which was followed by a wheel openings single brand of Pavia and Verona, which confirm the entry of Deborah Milano in specialized retail.
Arranged on one level on 40 square meters, the flagship of the historic Milanese Italian cosmetics well illustrates the concept by Hangar Design Group, focused on Maximum emphasis of the product which becomes only protagonist of space.
Bright, airy, the store confirms the importance of the solutions of materials and colors used to return a mood appropriate to the needs of the client: the atmosphere is thin and neutral while the concept adopts a rational design and exhibition in an environment of great uniformity and visual unity to emphasize the various shades and shapes of the same cosmetics.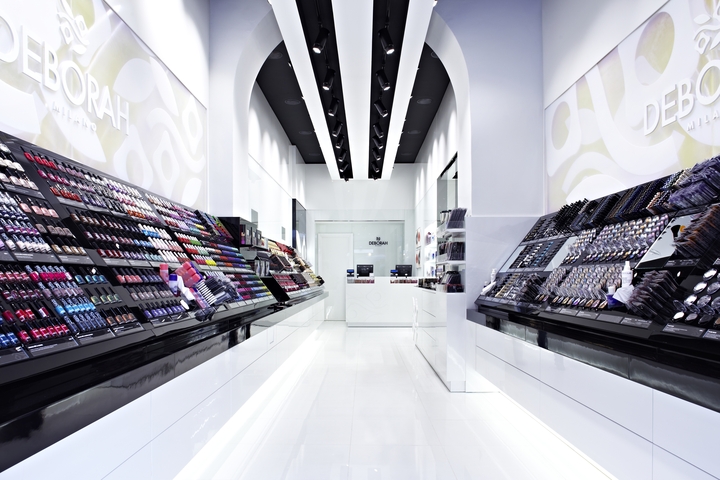 The casing of the store is candid, Amplified by the reflective surfaces of the furniture and paneling changing the walls, echoing the vibrancy of color sfumandolo in the neutrality of the declinations of white. The interior waive any color variation to make room for the bright color of the make up, the true figure of the brand identity. Rigorous and extreme formal clarity, the concept thus leaves leaked laperfetta synthesis between innovative capacity and soul pop of Deborah.
The space in Milan, as well as larger ones of Pavia and Verona, with the full range, inclusive not only of the different collections of make-up but also the range and body man. Conceived as a place of sale and as a reference point where the consumer can find advice and personalized advice, The store is a vetrinacreata to communicate the company's vocation for innovation.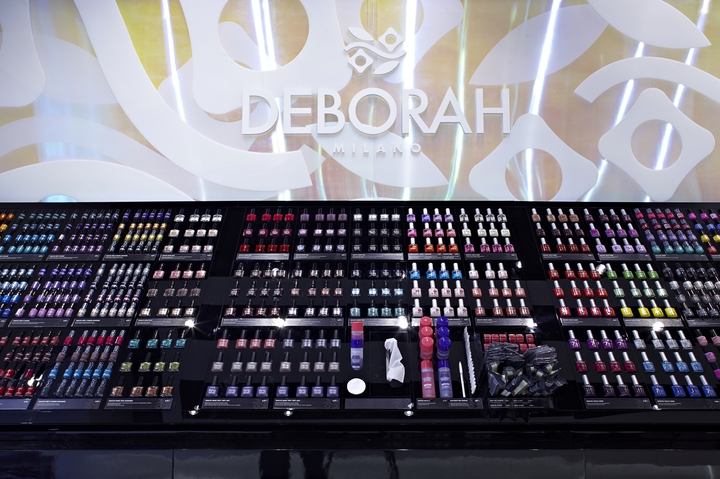 Research and development, in fact, are the cornerstones of the company philosophy that prompted Deborah Milano to constantly innovate not only in the formulation of innovative products but also to treat in detail the pack and the pack, often opting for organic forms and tactile textures .
The concept of the flagship emphasizes the aesthetic dimension of color and pack, widening the most of the space devoted to the products displayed in the series are arranged in a visual rhythm of pictorial inspiration.
Stands on the walls in neutral shades on a texture changing the sign of the brand, Which also appears on the outside mirrored glass. Reflective material, brushed steel or polished, is also the façade, an explicit invitation to take care of yourself and enjoy a full immersion in the world of beauty Deborah.