COMMUNITY HOTEL PARTY, Connections and innovative visions of IED students for Worldhotel Ripa Roma it has been modified: 2012-10-11 di
Friday October 12 19,30 hours at Ripa Place, Via degli Orti di Trastevere 3, in Rome, an exhibition will give visibility to the results of a thesis project that involved the three-year course of Interior Design in the redevelopment of Worldhotel Ripa Roma. Students have investigated new visions of the receptive function
imagining a contamination with other features and services that make the stay in the hotel in an experience of sharing and respect.
The spaces of the Worldhotel Ripa Roma, one of the first design hotels in the capital designed by the King & Roselli architecture studio, have lent themselves well to a reinterpretation of this type because they have already evolved in the combination of essential shapes and innovative materials.
The students worked on two distinct levels of planning, thinking back on one side of the reception and the other those spaces more individual.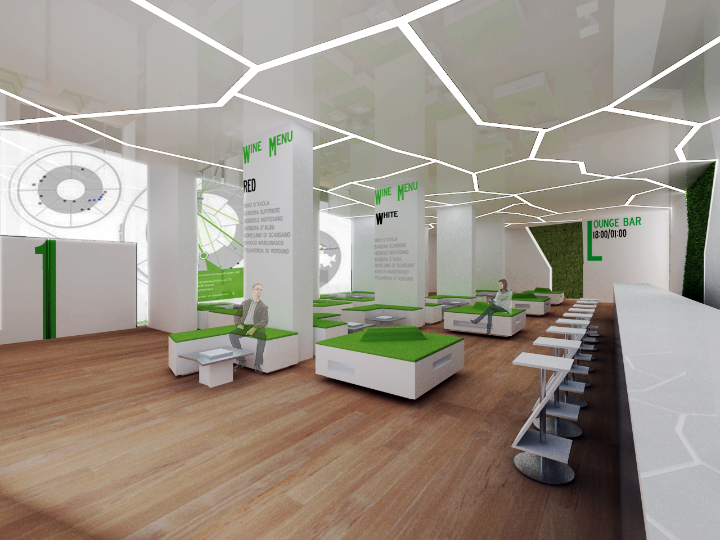 designed by Francesco Maria De Besi and Stefano Di Donato
For the common areas were developed hypotheses of space can make the Hotel a "port" of the city, a collector of experiences of visitors and tourists, an engine of a real community raising its role to that of real service public.
Objects of investigation were the elements that make the structure in connection with the city, or the spaces of access, reception, dining areas and bars, the area events and conferences.
They were then designed new prototypes for the guest rooms, the most private of a hotel, triggering even in this context new forms of use and tourist experience. The project involved fifteen students divided into groups coordinated by architect Alessandro Casadei.
The multiple visions have led to different interpretations, ranging almost popularizing the approach linked to the themes of ecology, to the more iconic related to the use of colors and shapes.
The end result is a real case study on the issue of hotel accommodation that will be visible in the spaces of Ripa Place at the cocktail party on Friday.
for more information: www.ied.it