Large windows, colors and sinuous shapes for the Cocoon House of Nea Studio it has been modified: 2021-05-13 di
Nothing more effective than the name Cocoon House to describe this building with innovative and harmonious shapes Full of light, warm and welcoming despite the minimal style. The Cocoon House is inspired by the concept of cocoon, from the English "cocoon", a word that intrinsically expresses familiarity and safety.
New forms for a welcoming environment
The Cocoon House by Nina Edwards Anker of Nea Studio located on Long Island, New York, and looks like a charming curvilinear building perfectly integrated with the surrounding landscape. The external structure is lined with cedar shingles, to fit harmoniously into the historic architecture of the neighborhood.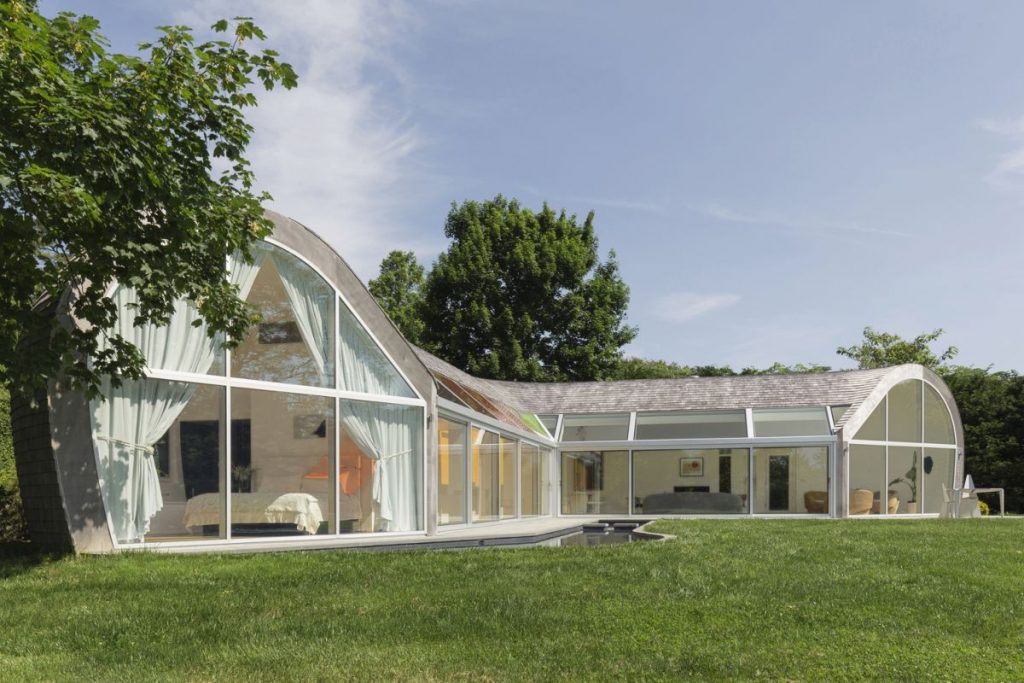 The outermost façade, visible to the neighborhood, is structured so as to provide privacy and intimacy thanks to limited lighting points, while the south-facing side, overlooking the garden, is entirely composed of glass windows and skylights. The choice of skylights in shades that turn from magenta to deep yellow transmit a warm light inside the house, which makes the home cozy, while at the same time giving a pop touch to the decidedly minimalist environment.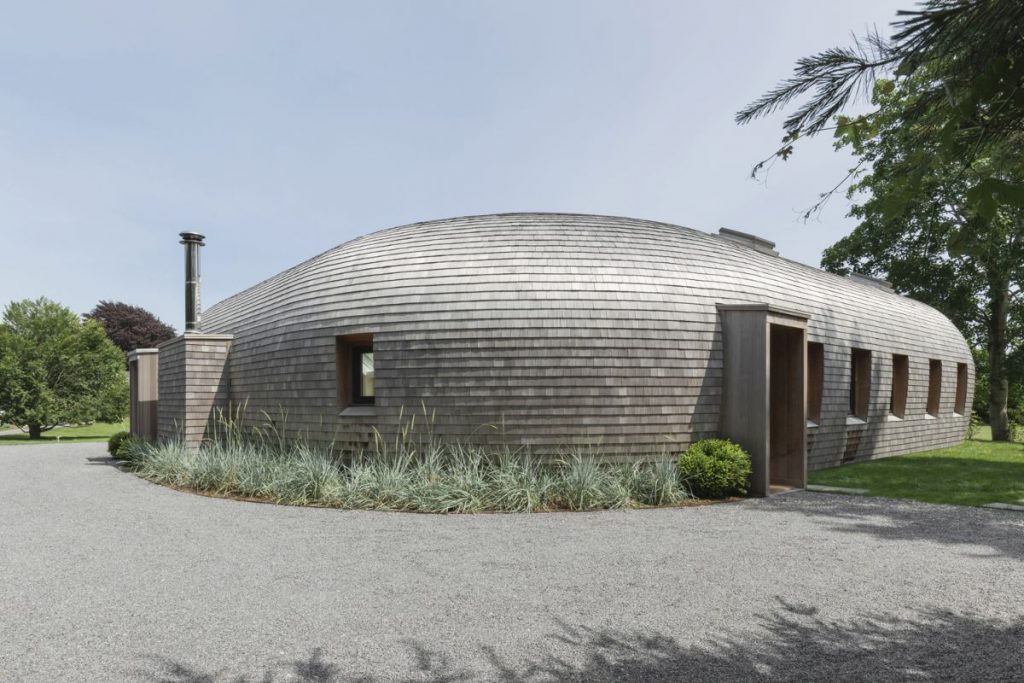 The large windows, on the other hand, adapt perfectly to the passing of the seasons, letting in the sea breeze in the summer and collecting heat during the winter. Peculiar and fascinating is the reflection of the skylights on the water of the swimming pool that develops around the house, exploiting shapes that resemble a natural stream.
Cocoon House: minimal interiors for maximum comfort
The main space, consisting of a kitchen, a dining area and a living room, turns out to be large and extremely bright, littered with design elements such as the fireplace set into the curved wall. An airy and convivial space, which lends itself immediately to social moments.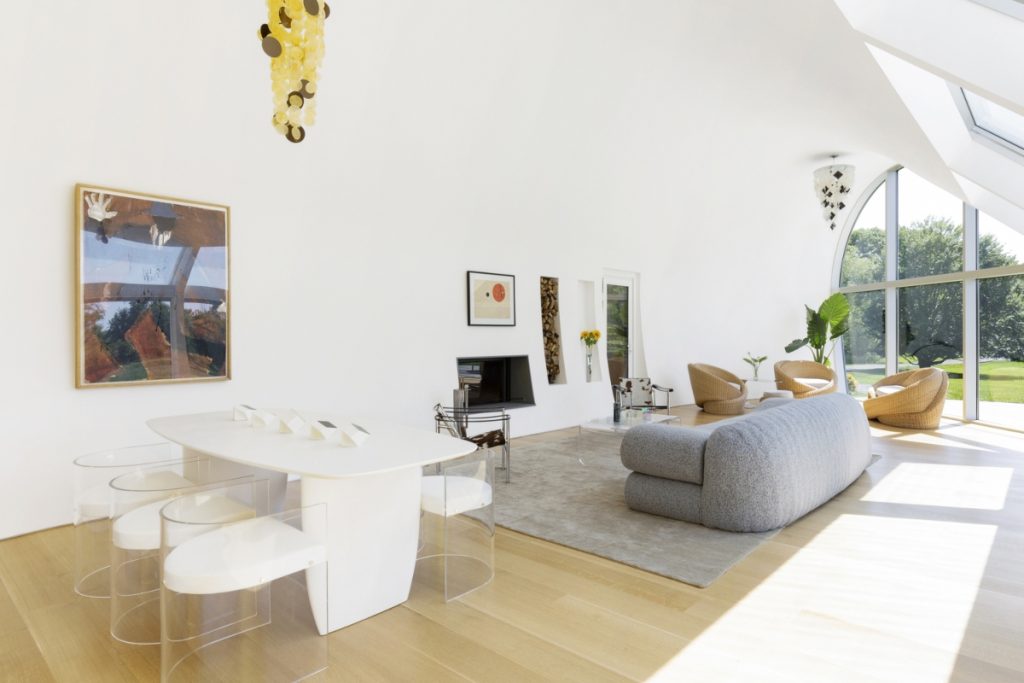 Continuing in the long corridor that flanks the kitchen you arrive in the master bedroom, illuminated by abundant natural light thanks to the glass walls that overlook the pool. In the room there is a wonderful bathtub, also accessible from the adjoining bathroom, enriched in turn by a large walk-in shower and a spacious vanity, ideal for gathering all your objects without altering the harmony of the space.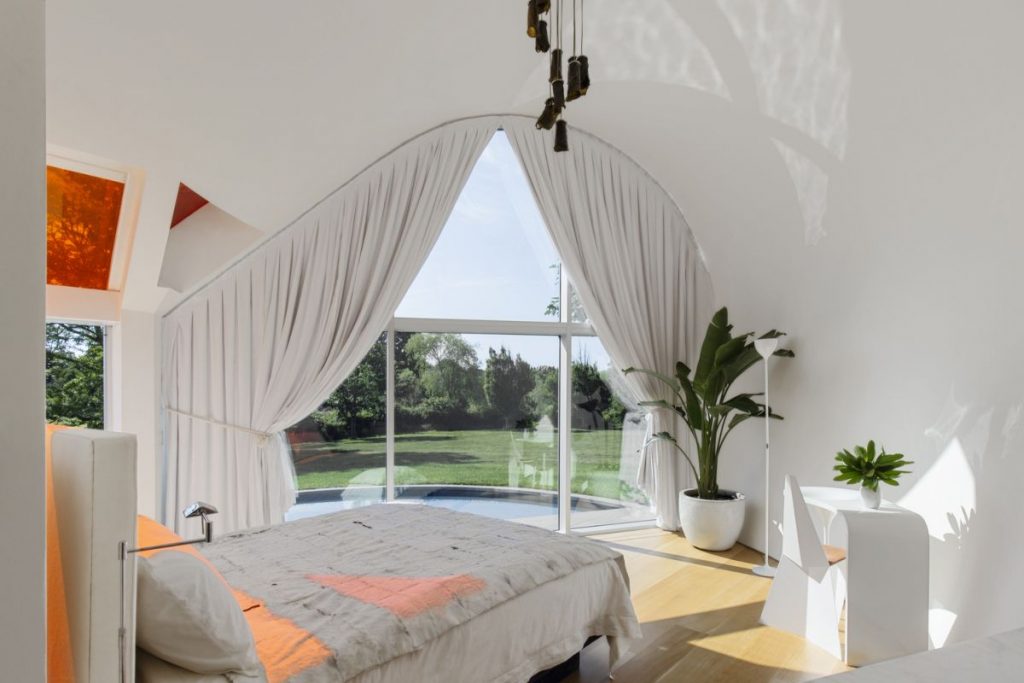 In the second bedroom the bed was positioned along the wall, to optimize the spaces, in turn expanded by a mezzanine that houses a third bed, to make the most of the high ceilings. The mezzanine enjoys a splendid natural lighting and is embellished by curved wooden beams that mark the rounded and harmonious lines of the structure.
Architecture firm: nea study
Project Leader: Nina Edwards Anker
Drafting: Anna Agoston, Raphael Walther
Landscape Design: Charlotte Cousins, Carlotta Zea
Building Contractors: Licciardi Builders, Lynbrook Glass, Unalam
Structural Engineers: Alexey Nefedov, Will Laufs, LED
LEED consultant / Mechanical Engineer: Jordan Goldman, Zero Energy Design
LEED verification: Karla Donnelly, Steve Winters Associates
Photography by Caylon Hackwith