"ÁLVARO SIZA. VIAGEM SEM PROGRAMA "DRAWINGS AND PORTRAITS OF COLLATERAL EVENT 13. INTERNATIONAL ARCHITECTURE BIENNALE OF VENICE
it has been modified:
2012-08-02
di
An exhibition entirely dedicated to the more intimate side and least known of the Portuguese architect Alvaro Siza, a prominent figure in the landscape design internationally awarded own
in these days of the Golden Lion for Lifetime Achievement of 13. International Architecture Exhibition - La Biennale di Venezia. "Álvaro Siza. Viagem sem Programa "is the title of the exhibition which will be held in the sixteenth-century palace of the Foundation Querini Stampalia in Venice, from August to 29 'November 11 2012, with free admission.
The exhibition, organized by the cultural MedicinaMentis, in collaboration with the Fondazione Querini Stampalia, stems from the numerous meetings that the two curators, Greta Ruffino and Raul Betti, have had with the architect Lusitanian, at his studio in Porto and says, through the exhibition of 53 works, taken from his notebooks and personally selected by the author himself, not only the activity of the architect but above that of man.
The exhibition highlights the extraordinary eidetic memory architect Siza will, building on his drawings (mostly portraits) made during the years of youth, with a section devoted to the family, the many journeys abroad, the latest dinners with friends and free time "by the weight of the job", and is populated by little memories, sensations, ironic notes and visions, all valid, as inherent in life.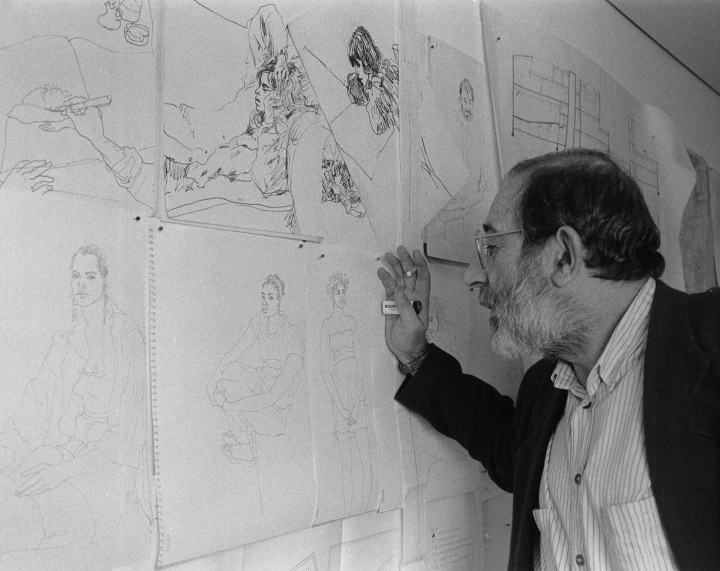 "The show - say the two curators - penetrating into human nature and culture project, wants to emphasize the inseparable link between these two components, revealing through an emotional journey, the most intimate and private of Álvaro Siza that manifests itself in a deep and intense ability to observe and subsequently translated into sign fragments of reality. "
The works (prints authenticated by the author, n.53, of 1 1 - which together make up a new work and single), are taking place in an exhibition that will highlight looks and dreams, memories and faces of strangers and all those friends met in that extraordinary "journey without program", which is life.
The exhibition at the Fondazione Querini Stampalia in Venice, also provides a space dedicated to the projection of the interview, made in Portugal in August 2011, in which Álvaro Siza speaks of his close relationship with the design, focusing on childhood, the beginning of his career, the encounters of life and friendships most significant, with an eye toward new amazing projects.
The exhibition catalog, with 53 works on display, accompanied by the full text of the interview with Alvaro Siza, translated into four languages, published and distributed by Red Publishing and made a brand new environmentally friendly paper Favini, will be on sale from August at the 29 bookshop Querini Stampalia and in major bookstores Italian and international.
More information here