Techno-surface in the restoration of the modern: Corian®
it has been modified:
2015-12-18
di
The white color of DuPont ™ Corian® techno-surface - a tone that conveys a pleasant feeling of space, openness and lightness - was used for the transformation of a residential and commercial building the early '70, dark and massive, located in the central square of market Backnang, German city situated in Baden-Württemberg.
The Fruit Market (Am Obstmarkt) address evokes images of the main square of an old market. The center of the picturesque city of Backnang, located in southern Germany, has lost much of its original charm due to World War II bombings and some post-war "architectural errors". Until recently, the building at number one, with its dark and impressive appearance was not an exception in the general appearance of the road. Empty for over ten years, the building has undergone a significant restoration initiated by local institutions based on the DuPontTM Corian® high-tech surface.
The structure has been transformed into a modern mixed-use building (houses and offices), to which a plan has been added during the renovation phase.
At this point of great visibility, the architectural firm Loesch Architekten GmbH in Stuttgart has transformed the existing space into elegant offices and into three spacious duplex apartments, showing great sensitivity for design and materials. The new building adopts an essential architectural language, with clean lines and a cubic-urban aesthetic. With its splendid white façade in DuPontTM Corian®, the previously overlooked entrance of the Fruit Market shows an interesting and pleasant transformation to residents and bystanders.
The modern architecture of the building reflects the different functional areas - home and work - using different materials: the office spaces, on the lower floors, are covered with the DuPontTM Corian® techno-surface combined with glass, while the upper floors show a particular façade with horizontal slats. At the same time, the different areas are creatively linked together by means of recurrent cubic elements on the three sides of the building.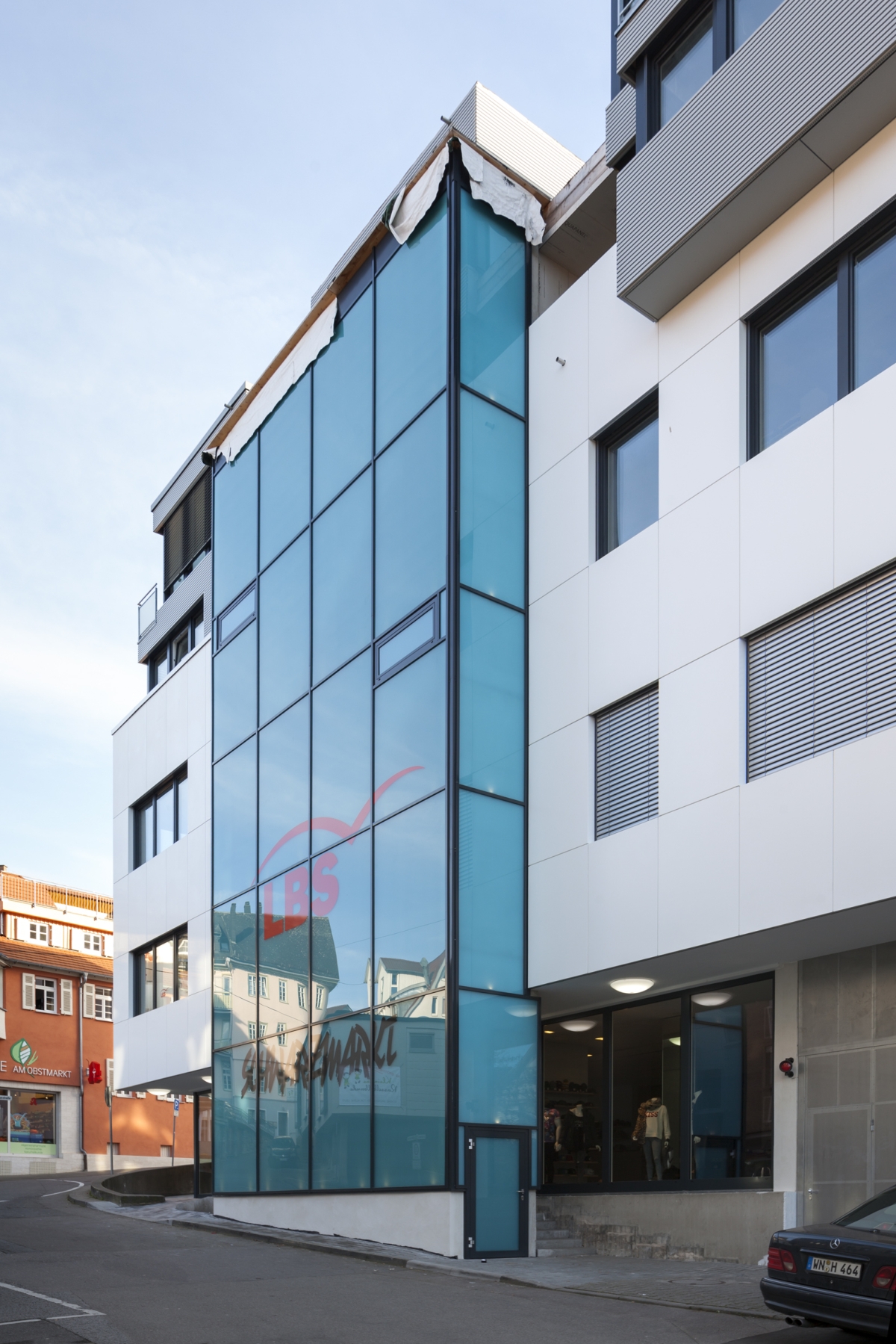 For the fascinating pure white exterior cladding of the building, the architects chose the DuPontTM Corian® high-tech surface in the Glacier White color: the appearance of the façade is perfectly homogeneous, also thanks to the use of borders in the same color scheme . The façade panels were made by Moser GmbH, an Industrial Partner company belonging to the "DuPontTM Corian® Quality Network".
Wittenauer GmbH has carefully installed bespoke panels that, together and sandblasted, created invisible joints between the window frames and the slatted façade. The DuPont ™ Corian® exterior cladding has an area of ​​350 square meters and acts as a double layer for the ventilated façade. The use of DuPontTM Corian® allows to minimize installation work and offer a lasting protection against humidity and atmospheric agents.