Limestone, the stone surface is the new collection of Cotto d'Este by the high resolution 3d
it has been modified:
2015-06-18
di
Made with the most advanced technology available, the new entry of Cotto d'Este is renowned for its high resolution and 3d an absolute depth of the surfaces.
Natural, modern and extremely versatile, suitable for covering any type of architectural context with style. And 'Limestone, the new collection of floors and wall tiles in porcelain stoneware signed Cotto d'Este, historic company of Sassuolo interpreter of Made in Italy in the ceramic industry.
The Limestone series has a technological soul that makes it unique: it was in fact created with the innovative high resolution digital printing system that allows to obtain graphics with a high depth of field in 3 dimensions with a level of detail and an alignment of the drawings never obtained before. The collection is available in four modern shades - Clay, Amber, Oyster and Slate - that reproduce the shades of natural stone and are enriched by subtle veins and a moderate degree of shading. The four shades of the collection are declined up to 84 different graphic combinations. This guarantees an extreme diversification of the thick porcelain stoneware surfaces of the series. An innovation that allows you to customize spaces as much as it is extremely difficult to find two identical tiles.
The Limestone collection is available in three extraordinary surfaces: Natural, with an opaque surface, but at the same time bright, ideal for large spaces and high foot traffic; Honed, with a soft texture and a soft reflection that makes it particularly suitable for residential environments and Blazed, a flamed surface and particularly resistant to sliding, excellent for outdoor floors.
Limestone is produced with Microban antibacterial technology in 60 × 120 cm, 60 × 60 cm and 30x 60 cm, 14 mm thickness.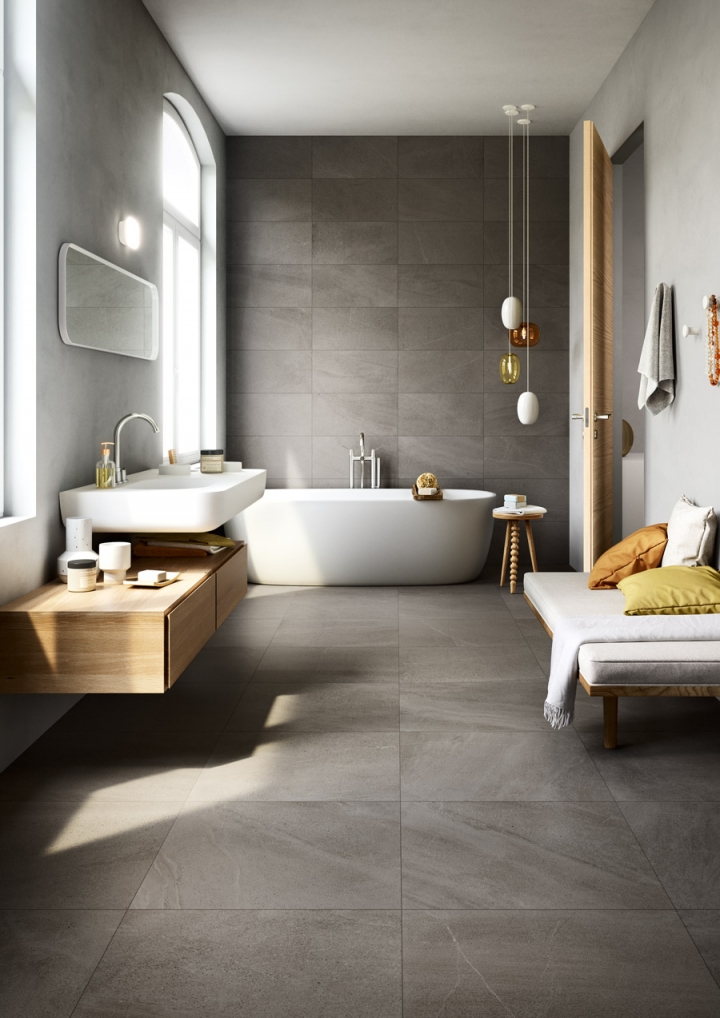 Limestone, Stone Surface