Residential safe: the security systems become design
it has been modified:
+2015
di
Protecting your home is very important and achieved through innovation in the field is now possible to do this without sacrificing taste and design.
To really make sure our house is necessary to put in place systems that ensure darkness both active and passive throughout, from outside to inside.
We asked James Tosetti, head of Puntosicurezzacasa.it and expert on the subject of car alarms and defense of the houses, to explain what are the most effective to be taken and how it is possible to integrate them with each other.
The safety systems are divided into:
Active safety systems.
They are burglar alarm systems, various video surveillance systems that allow you to monitor, control and monitor the house also remote, In other words by PC, smartphone or tablet from afar.
These systems are mainly of two types:
volumetric: allow you to enjoy active protection from the inside, detecting the presence of any intruders within the volume of the house with 10-15 meters rays,
Perimeter: guarantee protection from the outside allowing to detect any unexpected openings for windows and doors.
These home security systems allow to detect the presence of any intrusion from the outside and to prevent it, or report the incident. Today you can find different models, with many forms of design features that make them ideal components of furniture.
Passive safety systems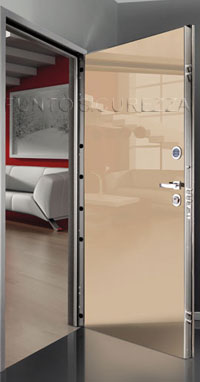 Essential to ensure the best security in house in combination with the active protection systems, home security systems are passive, physical and mechanical solutions that allow you to have a physical block on the outside of the house.
These systems are characterized by grilles, security windows with glazing burglary, burglary shutters, and especially reinforced doors burglary.
All these solutions allow you to have the confidence to delay at least in part the input and the intrusion of outsiders, thus giving way to those who also lives in calling for help and avoid dangerous situations.
There are many architects who have proposed their own model of armored door, making it not only a passage to the outside, but a real piece of design with a strong personality inside the house, breaking away from the wall and reappropriating volume and space.