[MILAN] World Expo Pavilion Competition by [AC-CA] it has been modified: 2014-08-13 di
Milan it is the second most populated city in Italy. The city in the "strict" sense has a population of 1,3 million, while the metropolitan area has over 4 million.
Milan is an important world fashion and design capital, it is full of great museums, theaters and world famous monuments, such as the Duomo, Which it is fifth among the largest cathedrals in the world and Santa Maria delle Grazie with paintings by Leonardo da Vinci, place heritage of humanity recognized by UNESCO. The city is the destination of over 6 million visitors a year.

THEExpo 2015 It will be hosted by the city of Milan, Italy, between May and the 1 31 October.
The theme for Expo 2015 in Milan is Feeding the Planet, Energy for Life.
This includes technology, innovation, culture, traditions and creativity and their relationship to food and nutrition.
The participation of over 130 countries and a large number of international organizations is expected.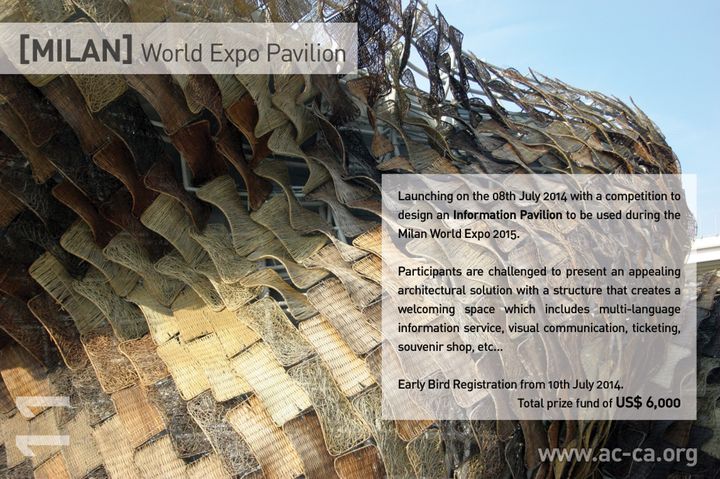 OBJECTIVES OF THE COMPETITION
The end of the international competition is the design of a Information pavilion in the Park of the Universal Exposition of Milan.
The competition hopes to achieve the following objectives:
Promote and reward research ideas that integrate the various constraints of implementation: function, structure and details with the "esprit" of the theme of Expo 2015.
Research and study of the various possible combinations in creating an educational pavilion that will be used by visitors during the Expo.
Encourage the use of sustainable design in all its various aspects.
STRUCTURE OF COMPETITION
It is a competition to single phase with the aim of identifying the most appropriate proposal that best meets the general criteria and specific objectives of the competition.
WHO CAN PARTICIPATE
Can participate Architects, graduates, engineers, students. Even interdisciplinary teams are invited to take part in the competition.
You can send individual or group work (up to 4 members). There are no age limits
AWARDS
Projects declared winners receive prizes totaling US $ 6000

1 PRIZE: US $ 3.500
2 PRIZE: US $ 1.700
3 PRIZE: US $ 800

Another 7 projects will be awarded with an honorable mention.
This is an open international competition organized by [AC-CA] ™ for the sole purpose of promoting and generating ideas of contemporary design. It is not planned the construction of the winning design.
CALENDAR
Official Competition Announcement - 8 July 2014
Competition start and pre-registration - 10 July 2014
Deadline for registration - 31 October 2014
Deadline for submitting projects - 5 NOVEMBER 2014
Evaluation of the jury - from 10 November to 17 November 2014
Results and winners announced on www.ac-ca.org - 20 November 2014
For more information and for the official announcement: www.ac-ca.org