Urban dairy, modular display system it has been modified: 2022-05-17 di
Modular display system designed for Caseificio Palazzo, a leading company in the dairy sector. An operator of large-scale distribution with high-end production, Caseificio Palazzo in a wider repositioning operation of the brand has chosen to embrace a different aesthetic, abandoning traditional folklore in favor of a contemporary urban atmosphere.
Three main elements define this adaptable space: 1) la modular structure in which framed panels in semitransparent fabric characterized by the Caseificio Palazzo pattern are inserted; 2) exhibitors with backlit plane that host supports in polymethacrylate in colors matched to the packaging in an effect of product enhancement; 3) a bright wall which shows the different stages of the production process and at the same time provides homogeneous lighting to the lounge / tasting area.
The search for a communicative synthesis is the basis of the palette of materials and colors, selected in a game of references and contrasts. The golden yellow borrowed from the company logo contrasts with the general monochrome of the environment and is accompanied by the primary and luminous colors of the display supports. The softness of the surface of floors and displays stands out and highlights the brutalist roughness of the central walls. The minimalism of the gray wood of the structure becomes the regulating grid of the lively black / white pattern that is a distinctive element of the company's identity.
The system defines a hybrid place, far from the imaginary of the company's reference market, but which for this very reason is able to strongly underline the ability to innovate and respect for the practices of doing well of Caseificio Palazzo. Visitors are accompanied on a path that tells the new identity of the company, crosses the assortment of products displayed individually as unique pieces, and finally arrives at the tasting, led live by a chef.
The modularity of the system allows easy changes both in plan and in the external skin of the stand - in fact it is foreseen to replace the subject and / or the material of the panels inserted in the structure at each event - thus conforming to the re-branding process which is still evolving.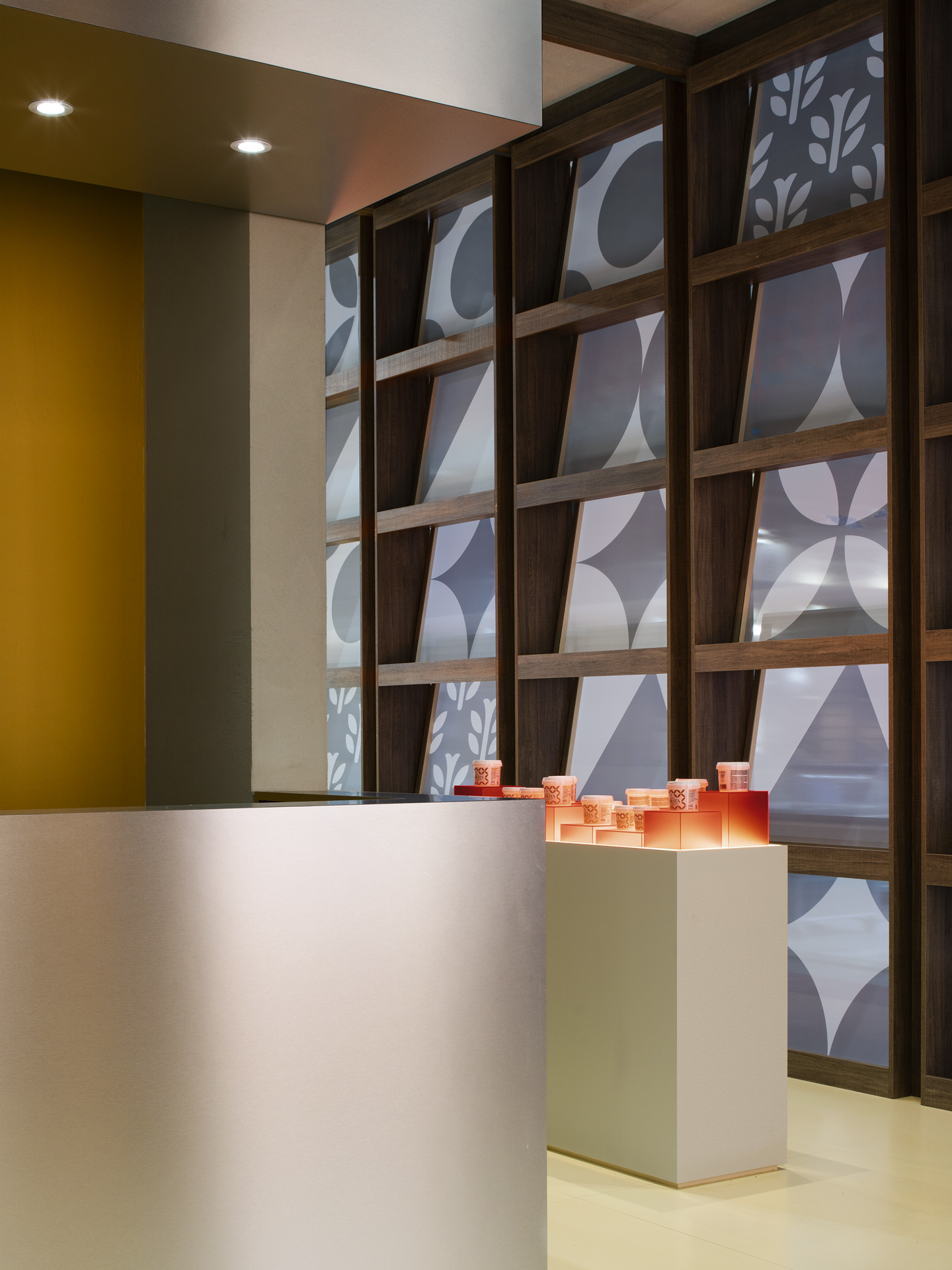 Project info
Client: Palazzo Dairy
Creative Direction: Paolo Cesaretti
Design Team: Paolo Cesaretti, Paola Danesi
Website https://www.paolocesaretti.it
Graphic design: Studio Proclamation
Bodybuilder: Aka Design
Area: 35-100 Sqm
Photo: Luca Rotondo
Post production: Wei Zhou, White Marilde