An old garage transformed into a paradise for vinyl enthusiasts, Sounds Familiar Store – STUDIOTAMAT it has been modified: 2023-03-31 di
In the heart of Trastevere in Rome, a space dedicated to the cult of vinyl is becoming the new trendy address for music lovers. We are talking about Sounds Familiar Store, a project signed by STUDIOTAMAT, which celebrates ten years of activity of the Sounds Familiar music label.
The store, located in an old garage, has been transformed into a chameleonic space that lends itself to various functions: shop, listening room, meeting point, stage for DJ sets and performances. The architects have focused on an open and versatile layout, which allows the space to be transformed according to needs.
The goal of the design was to express the personality and creative flair of the founder of the brand, Ornella Cicchetti. The design is inspired by the world of clubbing and the family character that distinguishes the Sounds Familiar brand. The space was conceived to be a welcoming home for old friends, a reference point for enthusiasts and insiders, and at the same time a pleasant stop for the simple curious.
The integrated and mobile furnishings are designed to be easily assembled and positioned according to different needs: the vinyl cubes, arranged one above the other, can be placed side by side with the console; the seat, a perforated sheet metal bench 45 cm high like the cubes, can be positioned near the vinyl racks or in front of the console, which measures twice as high, in a harmonious game of proportions and possibilities.
Uniformed from a chromatic and structural point of view to give homogeneity to the space, all the furnishing elements are made with an iron structure and powder-coloured in the lobster shade. The color palette mixes bright and enveloping hues with colder tones, such as the indigo of the walls. The material contrast between the elegance of the metal elements and the rough texture of the wood of the ceiling beams and some details gives the room a unique atmosphere.
In addition to vinyl records, the store offers a vast selection of accessories, publications and design objects that revolve around the world of club culture. From vegetable leather mats made specifically for Sounds Familiar to accessories dedicated to cleaning vinyl, passing through mugs inspired by musical genres and lamps that celebrate the iconic smile of the acid house movement.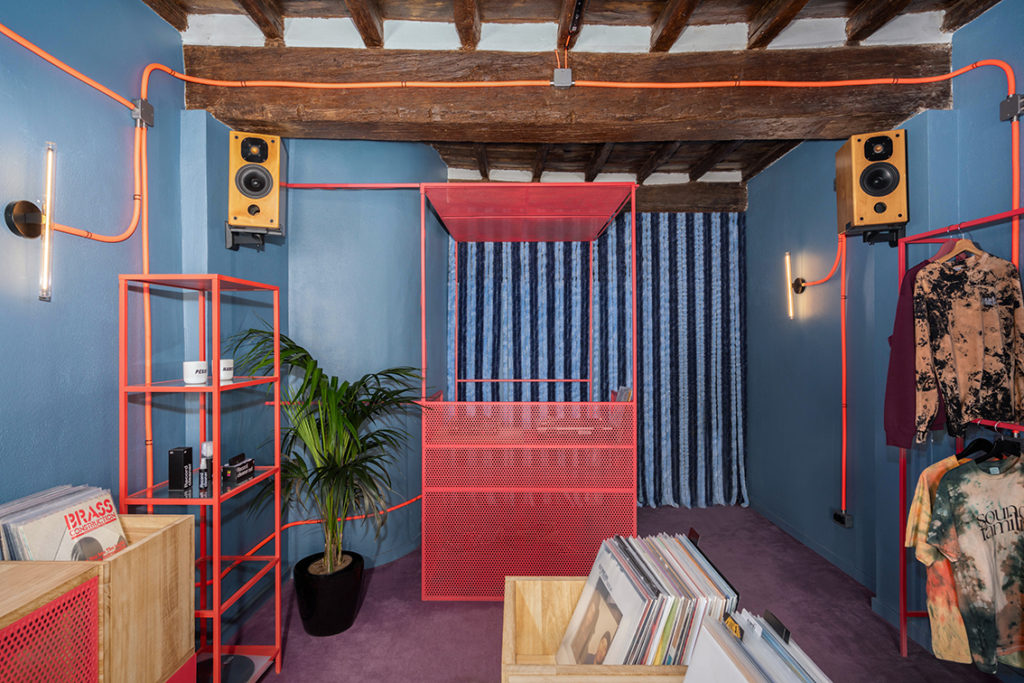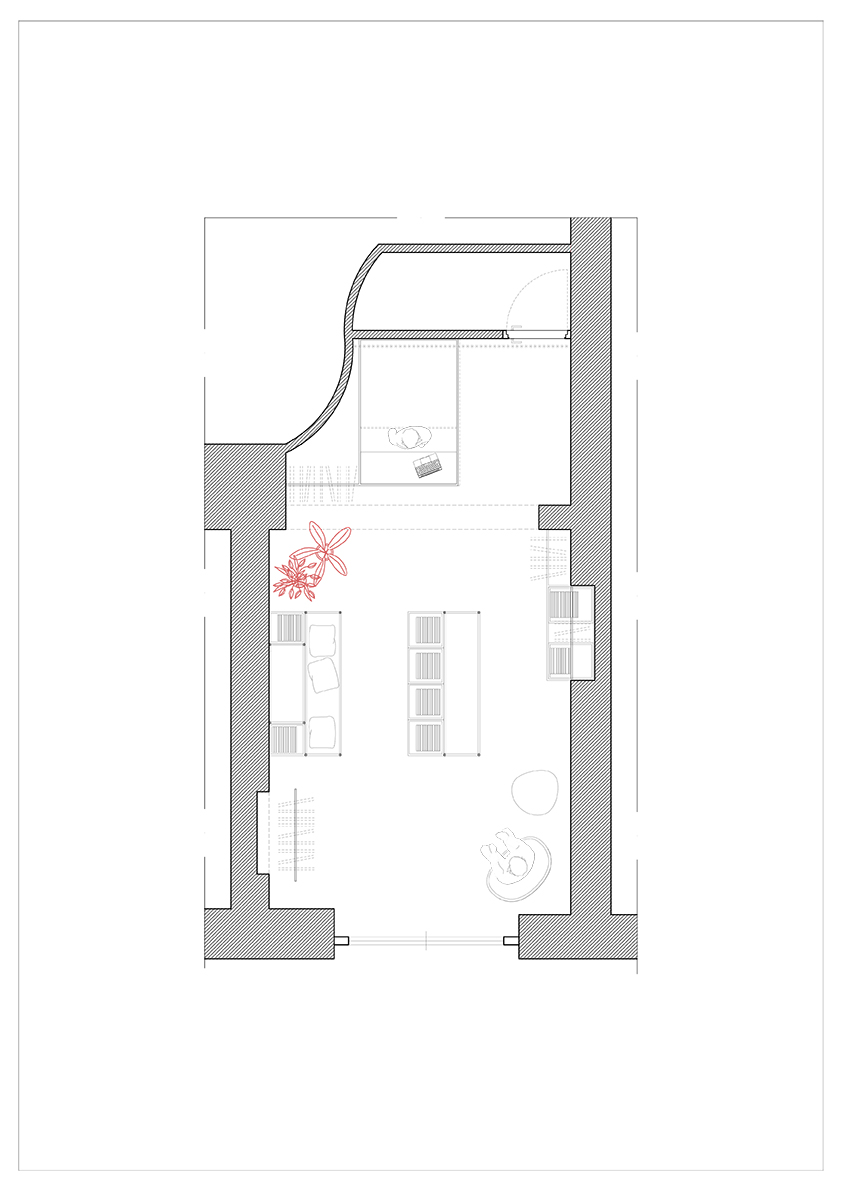 project info
PROJECT NAME: Sounds Familiar Store
STREET ADDRESS: Via di San Francesco a Ripa 5 (Rome, Italy)
ARCHITECT: STUDIOTAMAT (Tommaso Amato, Matteo Soddu and Valentina Paiola)
PROJECT TEAM: Silvia D'Alessandro, Matteo Subiaco, Alice Patrizi
CLIENT: Ornella Cicchetti www.soundsfamiliar.it
DATE: January 2023
PROJECT AREA: 40 m²
Materials
Pavement: Oceania carpet by Radici
Walls: plaster
Fixtures: in iron, made by local blacksmiths
Counter: in powder-coated perforated sheet metal and top in Paulonia tomentosa wood, design STUDIOTAMAT
Shelving, displays, furnishings: in powder-coated iron and Paulonia tomentosa wood, design STUDIOTAMAT
Chair: Roly Poly by Dryade
PHOTOGRAPHER: © Seven H. Zhang