A journey into the Russian tradition of bathing in harmony with the surrounding nature: the Zavidovo Spa Village it has been modified: 2023-04-27 di
Spa Village Zavidovo is a spa hotel located on a small peninsula of the Volga River in the village of Varaksino, Tver Region. The aim of the architects of ARCHPOINT and PTAM2 was to rethink the original traditions of Russian baths, combine elements of Russian wooden architecture with modern technologies and preserve the harmony of the surrounding nature.
The complex consists of the administrative building with restaurant and hotel and five bathrooms of different sizes.
Each bathroom has a steam room generated by a wood stove, a cold water tub, a room with aromatic herbs and a SPA area for massages. After the bath, hotel guests can go to an outdoor wooden deck where there is a barrel of herbs or a tub over a wood fire, a swimming pool, sun loungers and a dining table.
Three types of wood were used for the construction of the baths: Karelian pine, Siberian pine and Siberian larch. Large picture windows set into the log walls offer a great view of the river.
Almost all the windows in the administration building are panoramic, the floor is covered with solid ash wood, the decoration of the walls is divided into zones - logs, white paint and wooden carved panels. Different accents add uniqueness to the place: tables made of old peat wood planks, metal installations, paintings by artist Andrey Remnev on the walls. The kitchen of the restaurant is open and guests can watch the cooking process. The menu includes dishes prepared with local products.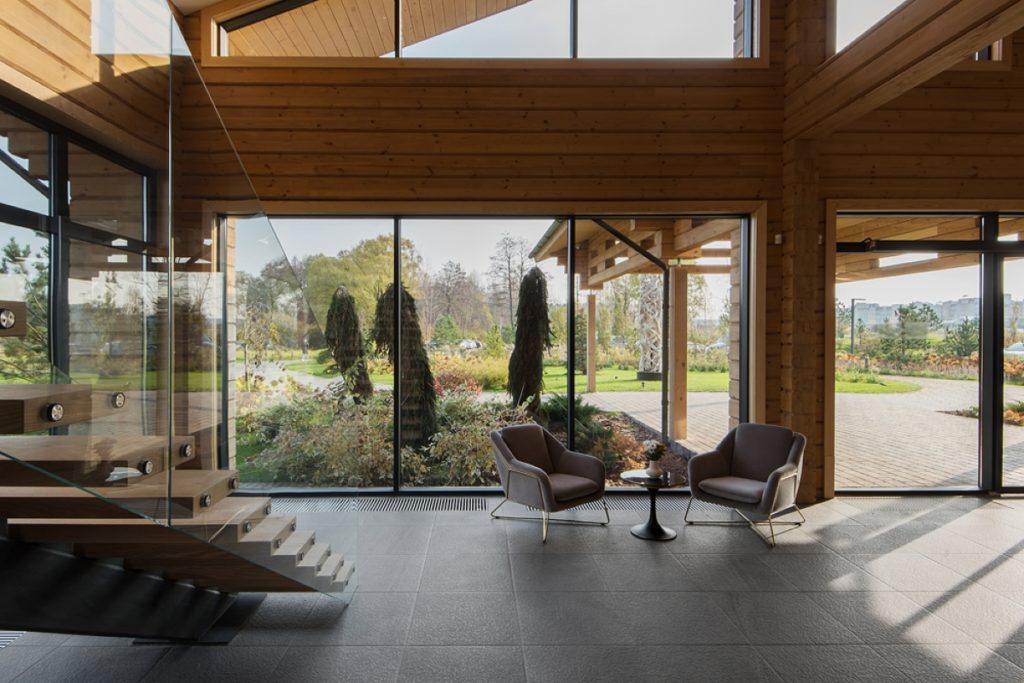 project info
Architecture office: ARCHPOINT + PTAM2
Architects: Valery Lizunov, Anastasia Topoeva, Alexander Salko, Sergey Kuznetsov, Elena Sukhanova;
General plan: Olga Ermachenkova;
Compliance assessments: Olga Gogolkina, Yuri Rukomichev
Website: http://archpoint.ru/ – http://ptam2.ru/
Year: 2020