Total white interrupted by the warmth of wood and exposed concrete, Casa H1 | Bruno H Gomes it has been modified: 2022-06-03 di
A total white villa in Portugal where the dominance of white is interrupted by the warmth of wood and structural parts in exposed concrete.
This villa is located in a residential area of ​​the city of São João da Madeira in Portugal. Access to the property is via a steeply sloping road that the entrance gate design seeks to tame. The ground floor of the house is located below street level and a gabled volume announces the entrance to the house to anyone approaching from the street.
The entire building is set against the western end of the land, leaving as much outdoor space as possible to the east, where the privileged outdoor area is located. On the east side, the house looks like a single block, sheltered by a continuous flat roof.
From this flat roof stands a gabled volume in reinforced concrete, which covers the entrance and the social area of ​​the house, which differ in volumes as well as in the materials used. The presence of this remarkable volume is also felt inside the house, the concrete elements that support this volume stand out among the white walls, the wooden details and the wardrobes that prevail throughout the house.
To the west, the project benefits from the need to build a retaining wall with the surrounding land. The exposed concrete retaining wall appears to emerge inside the house in the service areas (garage, laundry and toilets) and in the external patios that illuminate them.
As for the architectural language, white is the predominant color, both outside and inside, and is occasionally interrupted by some details in wood or exposed concrete.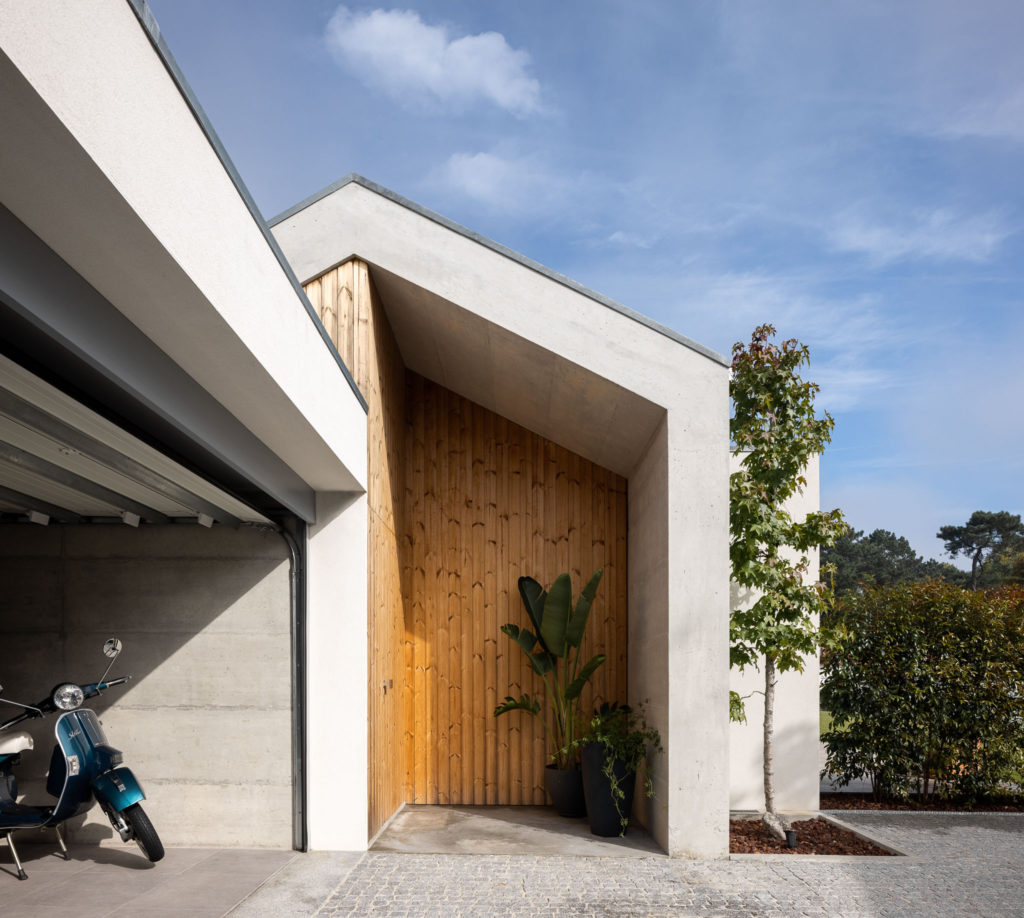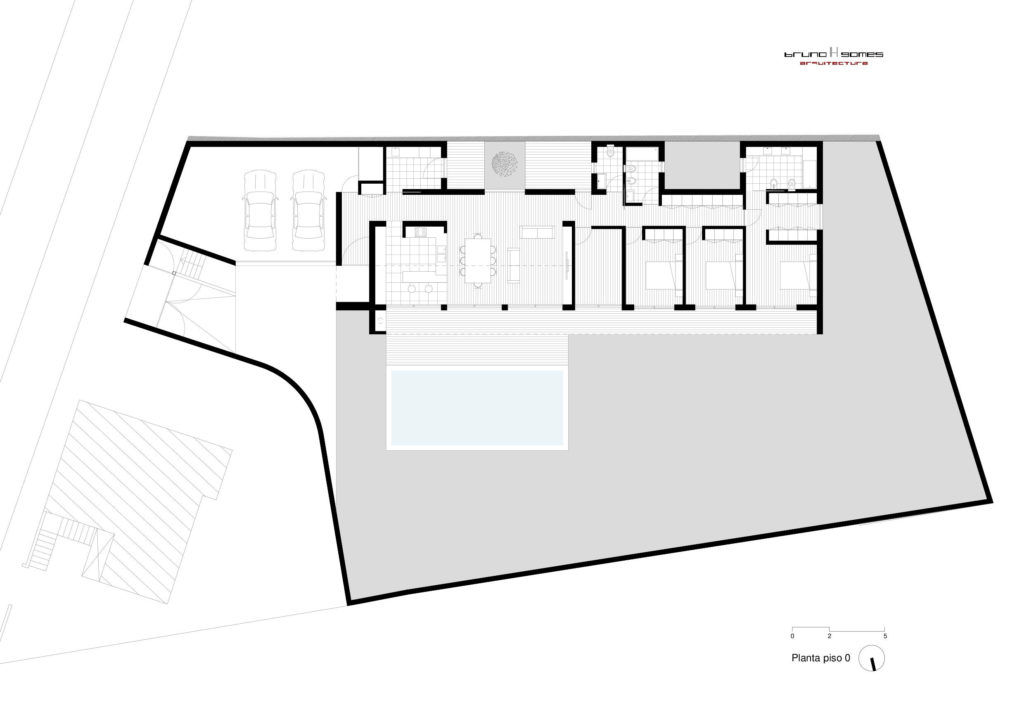 Project info
Project name: House H1
Architecture Office: Bruno H Gomes, Arquitectura
Main Architect: Bruno H Gomes
Website: www.brunohgomes.pt
Email: arqbrunogomes@gmail.com
Facebook: www.facebook.com/arqbrunohgomes
Instagram: www.instagram.com/brunohgomes_arquitectura
Location: S. João da Madeira, Portugal
Year of conclusion: 2020
Total area: 304,00 (m2)
Builder: SCR II
Engineering: Engº Paulo Reis
Architectural photographer: Ivo Tavares Studio
Website: www.ivotavares.net
Facebook: www.facebook.com/ivotavaresstudio
Instagram: www.instagram.com/ivotavaresstudio
Interiors Team:
Lunawood: Madeira Thermomodificada
SoSoares: JE à cor natural series
Cerâmicas Aleluia: Urban Atelier Cobalt 7 × 14
Valadares: Nautilus Hide Suspensa
Amorim: Wicanders Hydrocork B5Q1002 Chalk Oak