Sophisticated minimalism: the L27 bike & coffee shop revolutionizes interiors with HIMACS it has been modified: 2023-03-10 di
The L27 bike & coffee shop is an example of how the use of the right materials can completely transform an environment. Thanks to the use of HIMACS Solid Surface, the architects of the P6PA+Architects studio managed to create a bright and exclusive environment, in line with the values ​​of the Czech brand L27.
The Alpine White shade of HIMACS extension it was chosen to create a sharp contrast with the dark bicycles hanging on the walls, giving the room a refined and minimalist look. The non-porous surface of HIMACS also guarantees maximum hygiene in the kitchen area, making cleaning and maintenance easier and quicker.
The decision to use the HIMACS Solid Surface for the construction of the multipurpose counter has given the L27 bike & coffee shop a sense of strength and solidity, while guaranteeing the necessary resistance for a high-traffic area such as the one dedicated to welcoming clients.
Thanks to the alternation of white and gold finishes and the use of painted brass tubes, the architects were able to create an elegant and sophisticated environment, which brings out the L27 neon logo created in HIMACS on the glass wall.
In summary, the L27 bike & coffee shop is an example of how choosing the right materials can make the difference in interior design. The use of the Solid Surface HIMACS has given the environment a fresh and refined appearance, while guaranteeing resistance and hygiene in high-traffic areas.
The use of Solid Surface, such as HIMACS, in interior design has become increasingly popular in recent years thanks to its aesthetic and functional properties. This material is composed of acrylic resins and natural minerals, making it extremely versatile and suitable for multiple applications.
One of the main advantages of Solid Surface is its ability to be molded into any shape and size, thus allowing designers to create unique and customized projects. In addition, this material is resistant to stains, scratches and high temperatures, making it ideal for use in the kitchen and bathroom.
In the specific case of the L27 bike & coffee shop, the architects chose to use HIMACS to create a bright and exclusive environment, capable of reflecting the company's values ​​and creating a contrast with the bicycles on display. The combination of colors and finishes has made it possible to create a sophisticated and refined environment capable of capturing the attention of visitors.
Finally, the use of HIMACS for the creation of the counter and the kitchen area has made it possible to guarantee excellent hygiene and ease of cleaning, fundamental elements in an environment where the preparation and administration of food is daily.
In summary, the L27 bike & coffee shop is an example of how the use of high quality materials, such as Solid Surface, can transform interior design and create unique and exclusive environments, capable of satisfying the needs of customers and of visitors.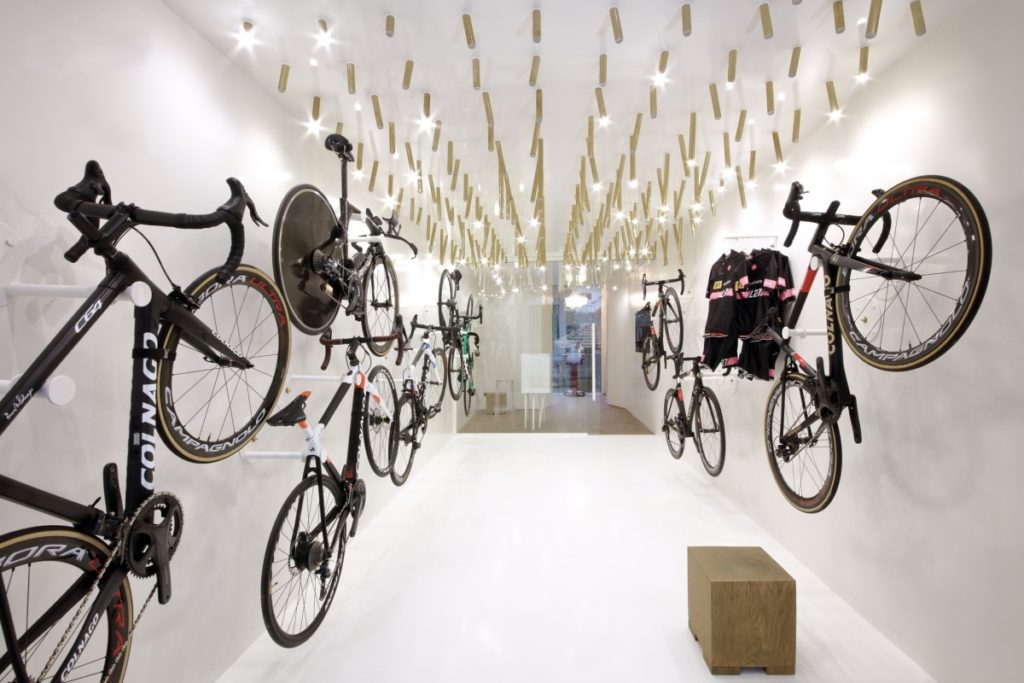 project info
Location: L27-Bicycle & Coffee, Prague, Czech Republic
Design: P6PA+Architects, sro | www.p6pa.com
Architect team: Martin Klejna, Julio Costa and Karel Koutsky
Material: HIMACS Alpine White S028 | www.himacs.eu
Manufacturing: Dinak, spol sro
HIMACS distributor: polytrade
Photos: © Robert Žákovič