The architectural lighting by MVSA Architects transforms the Holland Casino Venlo into a Masterpiece of Light it has been modified: 2023-05-26 di
The architectural lighting of the new Holland Casino Venlo, designed by MVSA Architects, represents a major attraction for the region. Its spectacular interactive facade, made up of glass discs and metallic elements, offers a changing light show during the day and breathtaking illumination at night.
Holland Casino Venlo represents an important calling card for the region, which is gaining momentum, and both the casino and the city aspire to compete internationally. It embodies two fundamental design principles: sustainability and optimization of the user experience. An interactive colour-changing facade offers a breathtaking light show during the darkest hours.
The new Holland Casino is instantly recognizable thanks to its bold organic design and spectacular interactive facade. Located next to a major road junction, the building offers an unforgettable experience for both passers-by and casino visitors. The facade is composed of a grid of glass discs alternating with a grid of smaller metal elements. These elements have a two tone cladding which means that the building changes color as the visitor moves around it. From the street, the casino becomes a chameleon, projecting a vibrant image during the day thanks to its richly colored surface. The large glass discs are equipped with LEDs. At night they illuminate the facade in a spectacular way, highlighting the flower-shaped structure of the casino architecture. The LED facade is fully dynamic and programmable, so it can be adjusted to express different themes. Maximizing the user experience both day and night was the most important starting point for the design.
The architectural design of the Holland Casino Venlo was done by MVSA Architects, a Dutch studio known for its innovative and creative solutions. Lighting was a key element in the design process, as the aim was to create an immersive visual experience for both visitors and those passing in front of the building.
The interactive facade is a true show of light and colour. During the day, the glass discs reflect the sunlight, creating an iridescent effect that brings the whole building to life. The colorful surface catches the attention of passers-by and creates a distinctive image for the casino. But it is at night that the magic really happens. Thanks to the LEDs positioned on the glass discs, the facade lights up in a spectacular way, creating a unique and suggestive atmosphere. The colors slowly change, creating a hypnotic effect that captivates visitors and invites them to enter the casino.
The LED facade of the Holland Casino Venlo was designed to be fully dynamic and programmable. This means that it can be adjusted to express different themes and moods.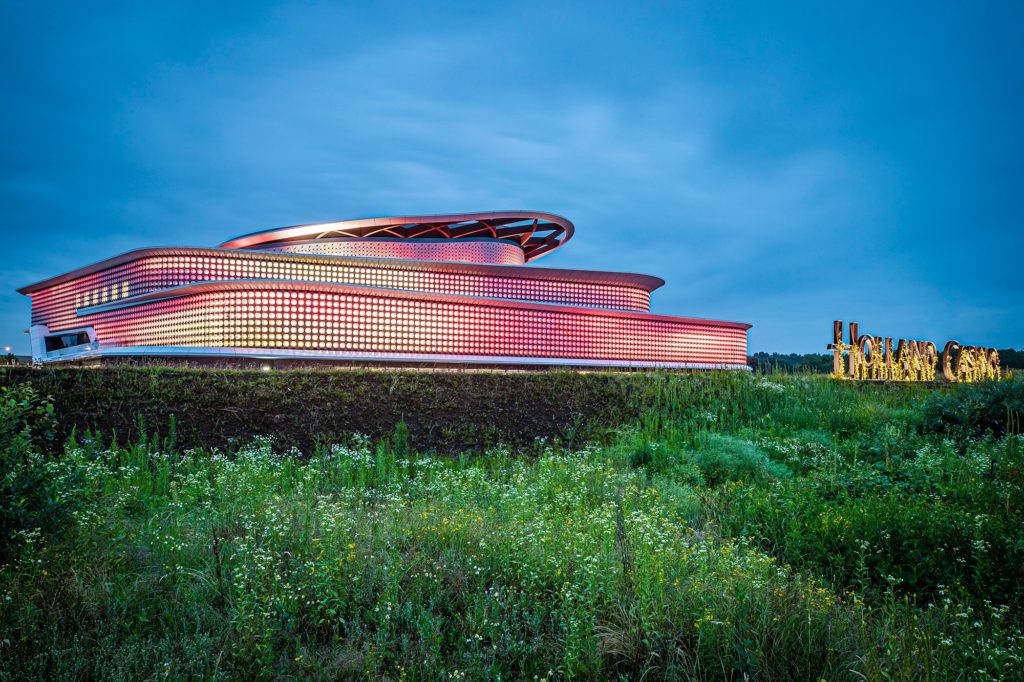 project info
Company: MVSA Architects
Lead Designers: Robert Meyer
Other Designer's names: Wouter Thijssen
Architecture Company: MVSA Architects
Interior Design Company: MVSA Architects
Client: Holland Casino
Photo Credits: Laurens Eggen, Corné Clemens, Barwerd van der Plas, Martijn Kort
Completion Dates: 2021
Project Location: Holland Casino Venlo, Floralaan 7, Venlo, The Netherlands
Project Links: View