The birth of an innovative gin experience in the heart of the Yarra Valley - Four Pillars Gin - Breathe it has been modified: 2023-03-07 di
The Four Pillars Gin company recently partnered with the Breathe studio to create an innovative and immersive gin experience in the city of Healesville, Australia. The design of this new space has taken into consideration the origins of the company, its history and the strong connection with the surrounding area.
The new facility offers multiple services, including a production space, an outdoor gin garden, a shop, a specialty shop and a bespoke bar. In addition, a suitable space has been created to host extraordinary events.
The design of the structure was conceived in a sustainable way and with great attention to the environment. The energy used comes from 100% renewable sources, such as the 100 kW solar roof, and practices have been adopted to minimize waste during construction. In particular, the steel, concrete and wood have all been recycled and the excavations have not been landfilled.
To reduce glass waste, gin is piped directly from the brewing space to the main bar via featured copper pipes. Furthermore, innovative techniques have been used for the realization of the furniture padding, using "pineapple leather" obtained from waste pineapple fiber.
In summary, this collaboration has given rise to a high-level experience, in which respect for the environment and sustainability have been considered priorities. The new structure is an example of how it is possible to create functional and elegant spaces, with a strong focus on environmental protection and waste reduction.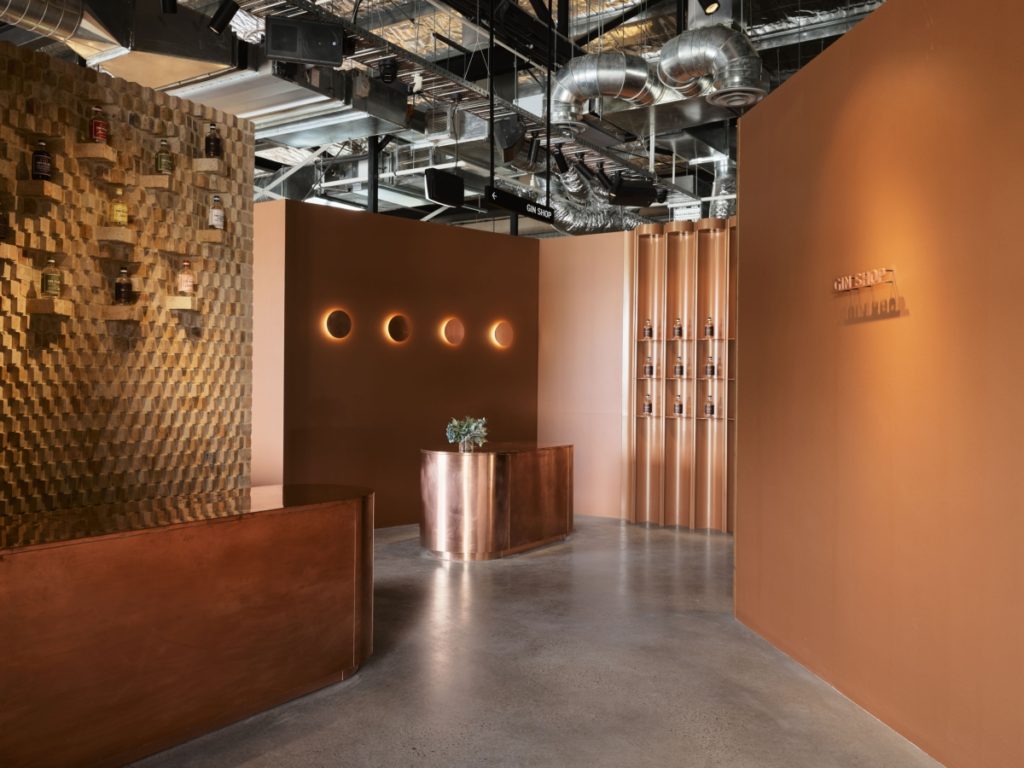 project info
Company/Firm: Breathe
Lead Designers: Jeremy McLeod
Other Designer(s): Camilla Carmichael, Madeline Sewall, Bettina Robinson, Shannon Furness, Ali Galbraith, Renee Jacovides
Photo Credit: Anson Smart
Location: Healesville VIC 3777 Australia. We acknowledge the Wurundjeri people as the Traditional Custodians.
Project date: December 2021
Construction Company: Never Stop Group
Architect: Breathe
Interior Designers: Breathe
Developer: Four Pillars Gin
Project Link: https://www.breathe.com.au/project/four-pillars-gin