The deconstructed design of Art Nouveau for the 34 Restaurant – REM'A it has been modified: 2023-03-03 di
The 34 Restaurant project, located in the old historic center of Guimarães, was created to meet the client's need to move an old restaurant into a larger space, without losing the characteristics that made it unique – an intimate setting, with elements in wood and greenery that give it its identity.
For this reason, it was necessary to develop an aesthetic-spatial concept that envisaged a deconstructed approach from the "art nouveau" movement: from the chromatic characteristics (brown/green), to the curved/wavy and asymmetrical shapes that define the spaces, to the repetition of decorative elements (wood for the ceilings and frames) instead of the "intertwined" elements typical of this artistic movement, up to the use of plants, all elements detached from the structural elements of the project.
The new space, located in the heart of the historic center of Guimarães, is characterized by a typically medieval texture that gives the building an irregular geometry that narrows down to the patio. For this reason, it was decided to outline the rooms with floor and ceiling level elements, via long sofas with frames parallel to the ceiling, which allowed us to incorporate technical infrastructure. The goal was to create a flow of space that would dilute the feeling of spatial irregularity.
Within these elements, we wanted to explore a duality between the identity of the brand and the identity of the building: on the one hand, the original masonry of the building (in some cases, after the removal of cladding added over the years years), which reminds us of its original construction, and on the other hand the presence of green elements, the identity of the brand. The wooden ceilings, framed by the aforementioned perimeter frames, reproduce the atmosphere of the old restaurant, exploiting the longitudinal direction of the rooms to give a sense of depth, as well as to allow the lighting supports to move slightly depending on the position of the tables .
The project covers the first three floors of the building, the first room on the first floor, the kitchen on the second floor (between the rooms) and the second room and lounge area on the third floor, with the bathrooms located on the transition levels between floors .
The conceptual matrix is ​​strongly implemented in the rooms, with the exception of the derivation made in the lounge area which serves as an antechamber for the room on the third floor, the only orthogonal space which tends to cause a surprise effect on the privileged view of the Praça do Toural, in the heart of the city of Guimarães.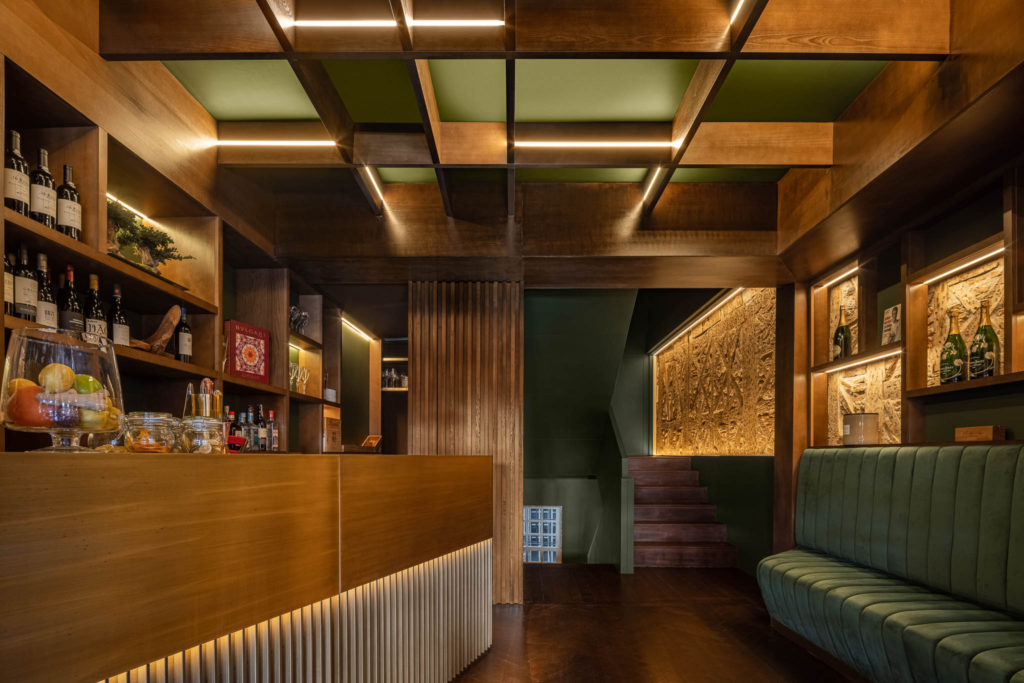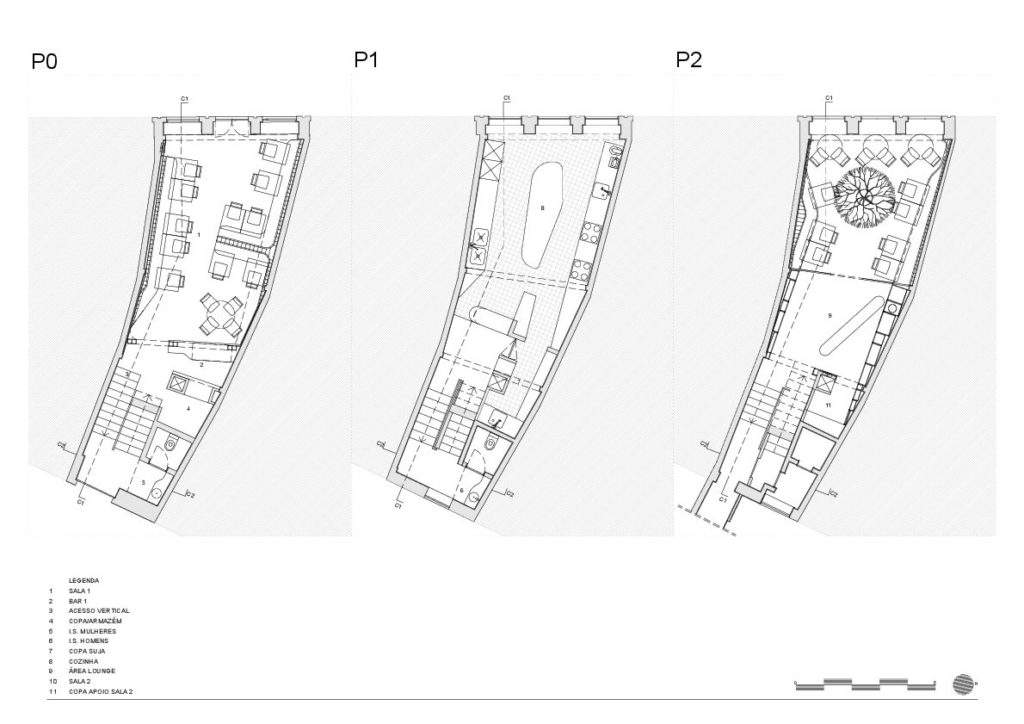 project info
Project name: 34 Restaurant
Office: REM'A
Architects: Romeu Ribeiro, José Pedro Marques
Website: www.rem-a.com
E-Mail: info@rem-a.com
Location: Guimaraes, PORTUGAL
Conclusion year: 2021
Build Area (m2): 175,00m2
Client: private
Photographer: Ivo Tavares Studio
Photographer's website: www.ivotavares.net