Foster and Partners / Residence Chesa Futura in St. Moritz, Switzerland it has been modified: 2012-08-08 di
The apartment building Chesa Futura in St. Moritz, Foster and Partners, was designed by combining cutting-edge technologies and ancient tradition. In the design phase, advanced three-dimensional cad drawing programs were used to obtain a very innovative shape. On the construction level, a laminated wood and steel structure was used on the one hand, and traditional construction techniques on the other as regards the wood cladding, a material that complies with environmental sustainability criteria. Its use, if done in a sensitive way, can contribute to forest regeneration, establishing to cut down the oldest trees and replace them with young essences.
The building consists of three floors and two underground levels used for parking. Its rounded shape is a response to the conformation of the territory and the local climatic conditions. It allows you to avoid a massive appearance and at the same time have a broad panoramic view of the valley and Lake St. Moritz. The structure is raised from the ground and resting on eight steel pilotis: it is part of the Swiss tradition that buildings in the mountains are detached from the ground, to overcome the problem of snow that settles in the winter months. The shape has been perfected with a program that combines the plan and elevation of the project to create a three-dimensional volume.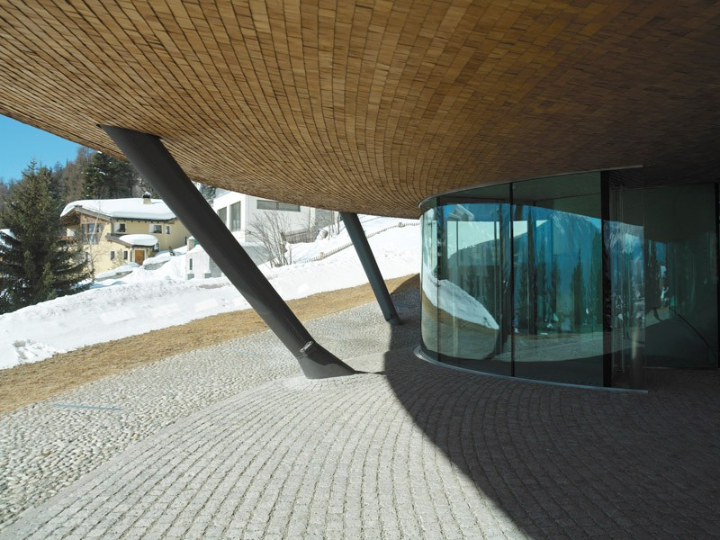 The digital information obtained were directly transferred to the cutting tools for the realization of models of study and subsequently to the machines with which the components were machined timber construction.
The frame of the building consists of a support structure in steel and laminated wood beams of 6 7 or meters long. The larch shingles that form the outer skin of the building have been worked out of the hands of craftsmen who have experience derived from the tradition in the use of long wooden generations. These tiles come from trees that are at the same altitude of the site of surgery and were cut during the winter, when the wood is dry and free of the lymph, so that it does not restrict. Over time will change its color and appear part of the landscape. The roof is made of copper, which is also the material of ancient local tradition because it is malleable enough to be laid in place even when the temperature drops.
The building is open at the entrance of sunlight through the balconies to the south, while it is closed to the north where the mountains and is exposed to cold winds. Greater thermal inertia of the rear-side of this is contributing to increasing isolation. The curved shape allows the windows to wrap around the front, proportioning the panoramic views of the lake and surrounding mountains.