Church of Santa Maria Goretti: The incarnation of Baroque architecture in the contemporary urban context it has been modified: 2023-05-27 di
The Church of Santa Maria Goretti, designed by Mario Cucinella Architects, stands out for its imposing and solitary presence in the urban context. Inspired by the fascinating geometries of Baroque churches, the church is characterized by a main facade that includes Christian symbols such as the entrance portal and the cross.
Solitary and monolithic, the Church dominates the pre-existing urban context of Mormanno. The monumental plan with an organic shape is inspired by the geometries of some of the most beautiful Baroque churches, such as the "Basilica di Sant'Andrea delle Fratte" and "al Quirinale", both in Rome, the Oratorio Ghisilieri in Ferrara, the Church of "San Carlo alle Quattro Fontane" and the Church of "Sant'Ivo alla Sapienza" in Rome. The main facade, which opens onto the new church square, is characterized by a few elements that define the main signs of the Christian tradition: the entrance portal and the cross. The symbol of the cross appears on the facade through slight flaking of the plaster that draw shadow lines generated by the intersection with the entrance portal, giving life to a light incision with a strong expressive value at the same time. The interior is pervaded by natural light, the protagonist and symbol of the Christian language. From the top of the Church, a series of translucent veils fill the central space, causing natural light to reflect through their folds in a play of reflections that recalls the mystical spectacle of the Northern Lights.
Founded in 1992 in Paris by Mario Cucinella, the MC A – Mario Cucinella Architects studio is based in Bologna and Milan. MC A specializes in architectural design that integrates environmental and energy strategies, making use of an internal research and development department that explores sustainability issues through a holistic approach. MC D – Mario Cucinella Design – specialized in the theme of recycling and the circular economy – was launched in 2018. In 2015 Mario Cucinella founded the SOS – School of Sustainability, a postgraduate training center to create professionals in the field of sustainability.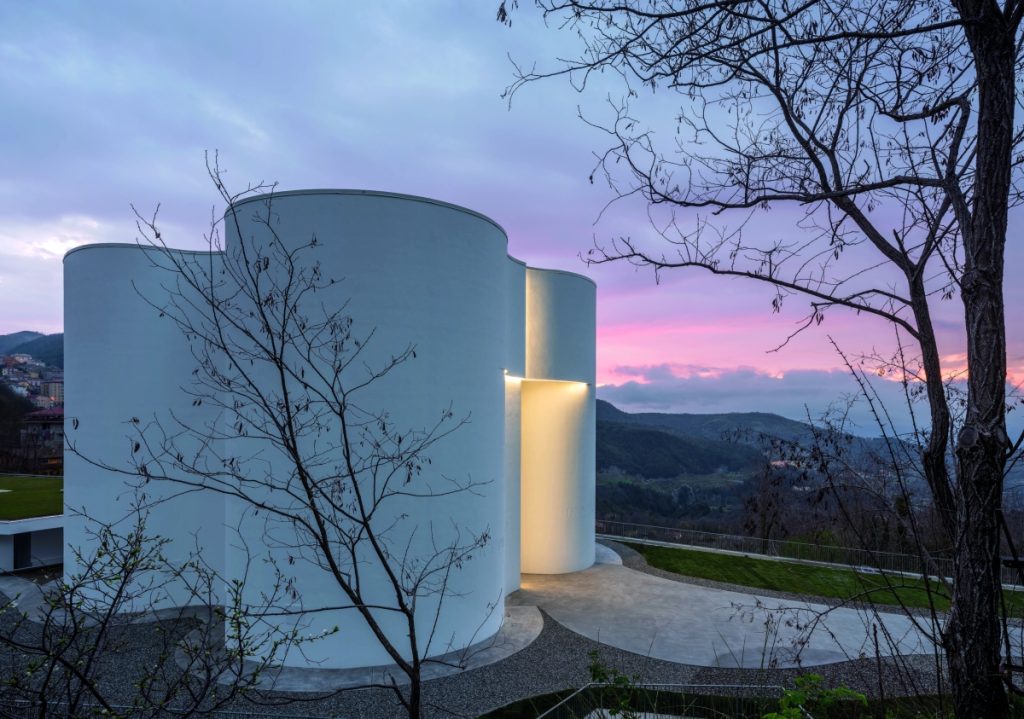 project info
Company/Firm: Mario Cucinella Architects
Lead Designers: Mario Cucinella
Design team: Luca Sandri, Alberto Bruno, Alberto Casarotto, Emanuele Dionigi, Enrico Pintabona, Michele Roveri
Architect: MC A – Mario Cucinella Architects
Interior Designers: MC D – Mario Cucinella Design
const. Company: Generali Costruzioni, Lagonegro, Potenza; GiPlanet, Piove di Sacco, Padua
Photo Credit: Duccio Malagamba
Location: Via Santa Maria Goretti, 87026 Mormanno CS, Italy
Project date: February 2021