Emotional architecture: Sjöviken villa in southern Finland and its unique relationship with nature it has been modified: 2023-05-29 di
Villa Sjöviken is a single-family house located on the island of Kemiö in southern Finland. Designed by architect Jenni Reuter, the house adapts to the delicate nature of the archipelago with a design on different levels. The access to the property is through the forest and the sea view is only revealed once you enter the house.
The steep terrain inspired the design of the building on different levels adapted to the fragile nature of the archipelago. The property is accessed through the forest and the sea view can only be appreciated after entering the house.
The heart of the home is the see-through fireplace, surrounded by an open kitchen, dining and living area. Views in four different directions can be seen from the core of the building. The bedrooms, bathroom and study are more privately placed in their own separate wings, with views and sound environments framed. The building has only one "floor" with more than four meters of difference in height from the lowest level to the highest one. This creates an intense bodily experience as you move between spaces.
The wooden building was crafted to fit the topography, with a facade cladding that follows the rock surface. The interiors feature a restrained and tranquil material palette, with the main focus being on views of the surrounding nature.
Jenni Reuter is Associate Professor of Principles and Theory of Architecture at Aalto University in Helsinki, Finland. She also works both in her own studio and in collaboration with architects Saija Hollmén and Helena Sandman. Their works have been awarded both nationally and internationally and have been widely published and exhibited at, among others, the Venice Art Biennale and the Venice Architecture Biennale on several occasions.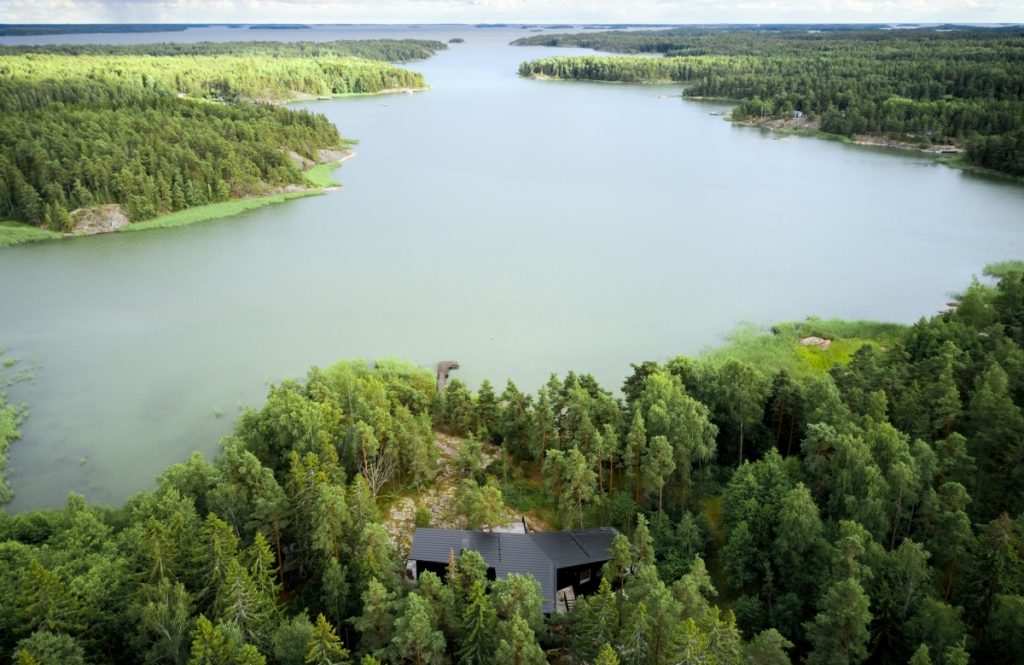 project info
Company/Firm: Jenni Reuter Architects
Lead Designers: Jenni Reuter
Architect: Jenni Reuter Architects
Interior Designers: Jenni Reuter Architects
Photo Credit: Marc Goodwin and Juha Ilonen
Location: Kemiö island
Project date: 2022