Alesia museum and archaeological park / Bernard tschumi architects it has been modified: 2013-02-02 di
With "Alésia museum and archaeological park" the French study Bernard Tschumi Architects occupying a historically significant place in Bordeaux, it pays homage to one of the most important battles in France dating back 2000 years between Julius Caesar and the Gauls. The project represents the participants in the war without obstructing the ancient path that still hosts a medieval city today. Construction will take place in two phases. The first, an interpretation center for observation, has been completed and opened to the public and represents the temporary encampment of Caesar's army.
The final phase will see the construction of the museum which is located at the location of the stronghold of the Gauls more than a kilometer away and is expected to open in 2015. The simple shapes of the two round volumes and their location within the context helps to characterize the landscape as the real protagonist of the complex.
The main building of the interpretation center is composed of concrete floors supported by slender corner columns in the main space. The partitions are the external structure and the internal spiral staircase. A secondary structure vertical steel surrounds the perimeter to frame the glazing and anchor the tertiary structure.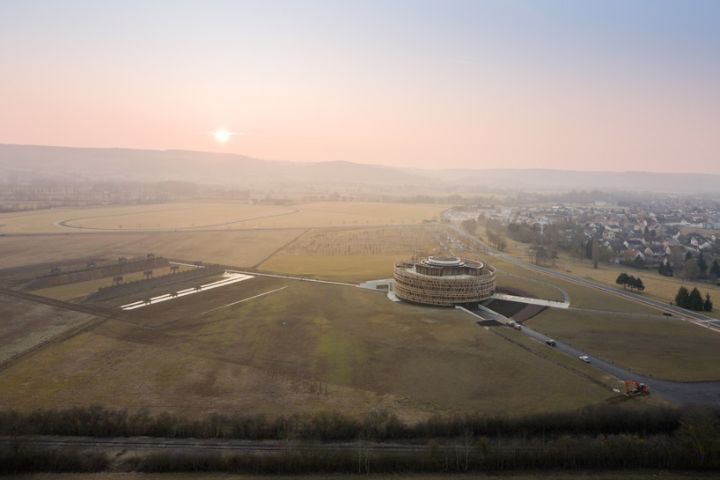 Horizontal wooden rings intermittently spaced by diagonal pegs enclose the entire facade, helping to integrate the building into the landscape. The circular plan allows a 360 degree view to the outside as the roof garden provides a top view of the recreated spaces below. Instead, the museum will display real artifacts and will be lined with a gabion filled with stone to represent the defensive nature of the Gauls on their hill.