[AC-CA] next architectural competition [RIO DE JANEIRO 07] it has been modified: 2013-03-10 di
The theme of the next architectural competition launched by AC-CA Architectural Competition is the design of a structure in the heart of Rio de Janeiro for the World Cup of 2014, to be held in Brazil from June to 12 13 July. The title of the competition is [RIO DE JANEIRO 07]
Rio de Janeiro is the second largest city in Brazil, the third largest metropolitan area in South America, boasting approximately 6,3 million people within the city proper.
The 2014 FIFA World Cup, to be held in Brazil from June to 12 13 2014 July. This will be the second time that Brazil the World Cup, the first of which in 1950, making Brazil the fifth country to have hosted the World Cup twice, after Mexico, Italy, France and Germany.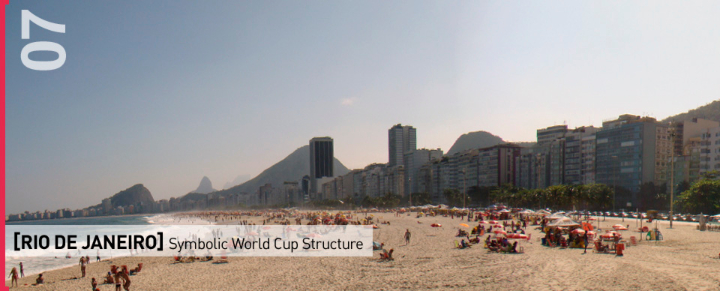 The purpose of this contest
The aim of this international competition is to design a free standing structure in the heart of Rio de Janeiro during the 2014 FIFA World Cup. The project should create a social space that will include a big screen, an information space, a café, etc ..
This is a single stage competition with the aim of identifying the most appropriate proposal, which best meets the general and specific objectives of the competition.
are eligible to participate
Architects, Architecture graduates, engineers and students. They are also invited to participate in the Competition Team interdisciplinary.
You can participate individually or in groups of up to 4 States and there is no age limit.
AWARDS
Participants winners will receive prizes totaling US $ 6.000 with distribution as follows:
1 PRIZE: US $ 3,500
2 PRIZE: US $ 1.700
3 PRIZE: US $ 800
There will also be seven honorable mentions.
Note: This is an international competition organized by [AC-CA] to generate progressive ideas of contemporary design.
There are plans for the construction of the structure.
For more information visit the website of the competition: www.ac-ca.org