In Prague, an old brewery transformed into an industrial-style loft it has been modified: ‭2021-06-16 di
In the districts of Prague an old brewery turned into a loft in industrial style. The building restored in 2008 was once used for fermentation; today the architects of the group CMC they returned to transform the building into a group of 40 loft industrial style.
From brewery to loft: a style that tells the origins
The team of architects wanted to preserve the soul of the place, keeping it as much as possible faithful to the original taste.
The style industrial in fact was born in New York in the post-war period, where there was a need to find new low-cost homes and use began discharged spaces: factories, abandoned buildings and offices.
The trend took longer to arrive in Europe: only in the 80s can it be said that it became famous, thanks also to Andy Warhol and its famous Factory.
The apartment has a unique and creative soul where it is possible to find all the principles that guide the style.
The interiors, characterized by the use of renewed raw materials, brick walls and concrete floor, are decorated in dark tones that recall the ancient gears of factories.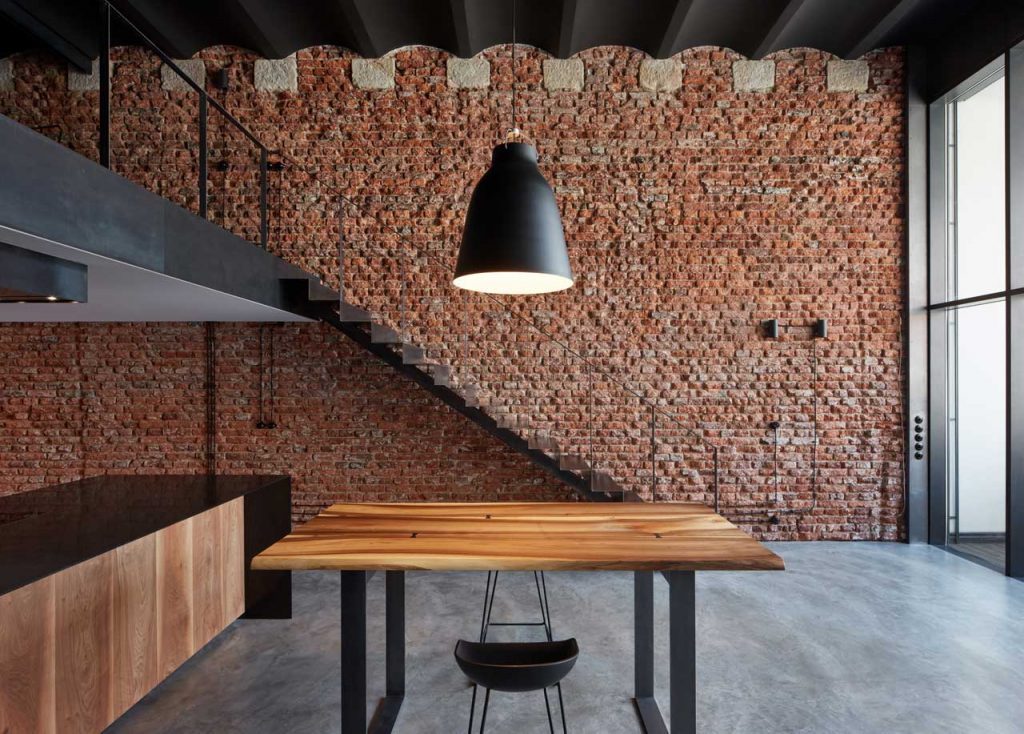 A ground floor that loves heights and contrasts
The color contrast is strong, but at the same time it goes perfectly: rough bricks and consumed they look around the room gray tones.
The layout of the spaces is functional and functionality translates into comfortable rooms without walls, where there are no borders and the environments contaminate each other.
The decor has a very clear color palette: the warm tones of the wood are perfectly combined with a scale of gray and opaque black.
The furniture expresses a strong but balanced aesthetic taste, by elevating the use of materials such assteel.
The kitchen is minimal and all the attention is placed on wooden doors and counter. The lines are clear, from simple design, without compromises. And here a ladder helps us to reach the highest shelves of the steel bookcase, which defies any height.
The patinated steel stairs lead to the second floor, where there are two bedrooms and two bathrooms; the impression is that the boundaries of each space do not exist.
The wooden floor guides the guest into an environment where the walls, represented by glass panels, allow daylight to invade the space in a natural way.
In the evening lighting is at a minimum, the use of low consumption LEDs is the master. Lights are an important piece of furniture and are used to enhance environments.